Off-premises is the future. Are you ready?
The pandemic has changed lots of things, including how we think about on-campus dining. That's why contactless foodservice lockers are the most sustainable strategy for the COVID-19 era and beyond. They're fast, convenient, and there's less risk for both your guests and your team. And here's a bonus – they increase throughput so you can optimize peak hours.

Minimizes touches and handling


Increases throughput and transactions

Provides real-time data and insights

Sends customers pickup notifications
CAMPUS DINING
No lines.
No contact.
No worries.
Make fast, contactless pickup the biggest win of their day. Apex smart food locker solutions help you keep orders secure while guests get in and out quickly.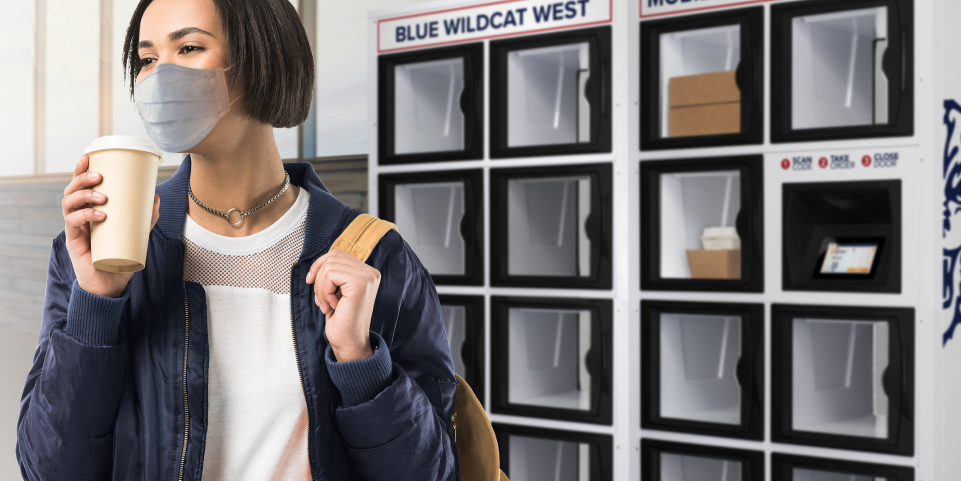 HEALTHCARE
Serve more guests,
faster and easier.
Our two-sided foodservice locker solution keeps to-go orders fresh while it streamlines employee workflows for higher throughput.
CORPORATE
Make grab & go their
go-to choice
Busy guests want to make the most of their time. When they can skip the line and get their order in seconds, you'll be their first choice every time.
— Christine Carlson, Senior Associate Director of Dining and Nutrition, University of Arizona —
Give Busy Employees No-Wait Order Pickup
OrderHQ™ Smart Food Lockers give corporate diners the amenity they really want — pickup in less than 10 seconds. Operators reduce labor costs and grow mobile order sales, too.
FLOW-THRU FLOOR MODEL
Two sides are better than one
The OrderHQ™ Flow-Thru locker has an open back so employees can load orders quickly, without interfering with guests who are picking up. Around front, your guests know their orders will be secure and ready when they arrive, and they can pick up in 10 seconds or less.
Three Ways OrderHQ™ Smart Food Lockers Help Operators
With the growth of off-premises takeout and delivery, efficient order pickup is now a top priority for foodservice operators. Apex Chief Growth Officer Mike Rizzo looks at three ways Apex automated food lockers improve order handoff and provide better pickup experiences for customers and delivery drivers.
The Value of Smart Pickup Lockers in the Modern Kitchen
When you set a takeout or delivery order on a counter for pickup, you're left totally in the dark. No data, no visibility to what happens next. Apex CTO Ben Savage explains how smart food lockers open up all kinds of data insights that today's foodservice operations desperately need.
FRONT-LOAD FLOOR MODEL
Limited floor space? No problem
The OrderHQ™ Front-Load locker lets you manage off-premises orders when there's no room to load from the back. Guests get quick pickup, while your team increases throughput and transactions.
FOOD ORDER PICKUP SOLUTIONS
ApexIQ: Powering more intelligent order handoff
Order pickup just got a lot smarter. Apex OrderHQ food lockers are powered by ApexIQ software, the most powerful and secure in the industry. That means greater labor efficiency and higher throughput. More transactions during peak hours. And new data that helps you create delightful customer journeys.
FLOW-THRU COUNTERTOP MODEL
A small-space genius
With the OrderHQ™ Countertop model, you can use your available counter space to give carryout customers and DSP drivers fast, contactless pickup. Meanwhile, your dine-in guests enjoy less crowding and congestion.
Make your operation smarter and more efficient
Get the real-time data you need to optimize order pickup with ApexIQ™. It shows "right-now" order details, compartment utilization, dwell times and more, so your managers can make adjustments as needed – right where they'll have the biggest impact.