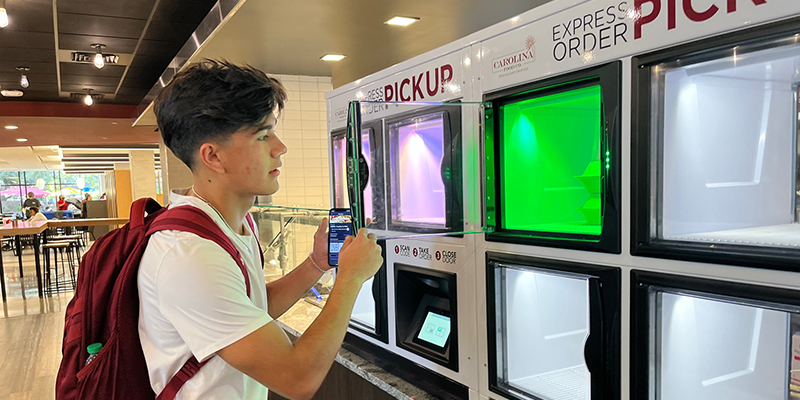 Smart food lockers ensure the right order goes to the right person
College students love mobile ordering for food. It lets them order ahead when they're rushing between classes and extra-curriculars, so their food will be ready when they get there. Best of all, they can skip the long lines at peak hours.
But sometimes, that smooth, digital experience hits a speed bump. For campus dining programs, the rapid growth of digital orders has created new challenges that can make it difficult to get the right orders to the right customers at the right time. Simply placing bags on a shelf or counter means orders may get picked up by the wrong person, leading to confusion, mistaken pickups, expensive remakes, and bad guest experiences.
The growth of mobile ordering
Carolina Food Co. operates nearly 30 dining locations at the University of South Carolina. It introduced mobile ordering in 2018, and with its popular mobile app Grubhub, the service has grown rapidly.
Mobile ordering really took off in 2022 off when Carolina Food Co. waived service fees for Grubhub orders. According to Director of Operations Margaret Kildow, "Since we waived the service fee, our Grubhub orders have grown to be about 50% of all orders, versus 30% the prior year."
That increase in mobile ordering created new challenges for dining teams. Completed mobile orders were placed on the counter for pickup – a traditional method that wasn't designed to handle high order volumes. This led to problems with orders being picked up by the wrong people, either accidentally or deliberately.
Loss and mix-ups at the pickup shelf
Said Kildow, "One of the biggest challenges for us was we would have a lot of orders that were set out [on the counter] and then somebody else would take it, thinking it was their order. This could be disruptive, and for employees, it took time away from the guest experience."
Here's what would happen: A student named Jordan comes in, looking for his order. He glances at the receipts, sees one with his name and grabs it. He's on the other side of campus before he realizes he took an order for Jordan M, not Jordan A, but he doesn't have time to go back. A few minutes later, Jordan M arrives and is upset when he can't find his order. He has to flag down an employee, explain what happened, and wait for his order to be remade. All the convenience and speed he was counting on is lost.
It's a common scenario that plays out every day across college campuses. It not only disrupts employee productivity, but it also increases food remake costs and results in bad experiences for students, faculty and staff.
The team at Carolina Food Co. reached out to their Grubhub account executive to talk about the issue and discuss how to improve security for mobile orders while keeping pickup fast and easy for students. Their Grubhub rep recommended looking at food lockers from Apex, who they'd partnered with on multiple campuses. The Carolina Food Co. Team liked how Apex Smart Food Lockers keep each order secure in its own compartment and use a simple scanning process for pickup. In addition, Apex and Grubhub have a software integration that ensures a seamless experience for students, making the decision even easier.
Within weeks, the Apex food lockers were added at three locations in the university's Russel House student union: Einstein Bagels, Twisted Taco and Food Lab.
Eliminating order mix-ups and loss
Students now enjoy a completely digital ordering and pickup process, and the experience is simple, secure, and seamless.
The guest orders through the Grubhub app.
It's received at the dining location and an employee prepares it.
The employee takes the order to the locker, scans the order ticket, and a compartment lights up, showing where to place that order.
The employee puts the order in the compartment and presses "complete."
The Grubhub app changes to "order ready" and provides a QR code to open their compartment. This ensures that no one picks up the wrong order by mistake.
When the guest arrives, they scan their code at the locker, the compartment with their order lights up and the door opens, and they're on their way in less than 10 seconds.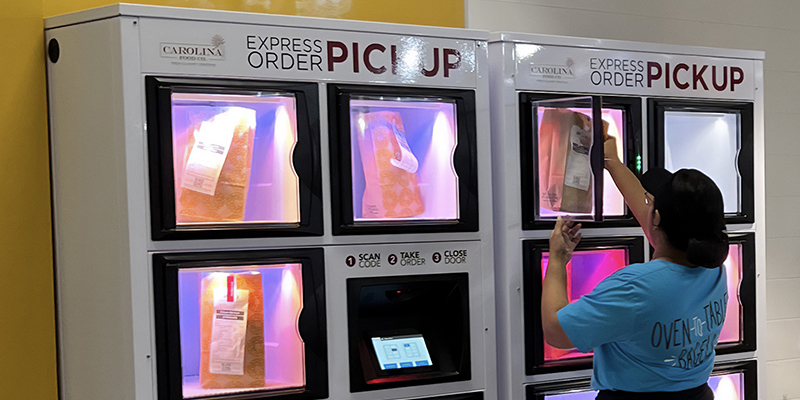 Convenience that keeps them on campus
Once students discovered how fast and easy the lockers are, they were sold. "These fit right into what students were used to. I think they were looking for a solution like this," said Kildow.
Said student John Bennett, "I come to Twisted Taco about once a day, and I usually pick up from the locker. It makes my life really easy."
Student Payton Vereen added, "I'd say I probably stay on campus more often. It's very convenient for me not having to wait in a line. It's just there, and you just get it yourself."
Senior Michaiah Fields said, "I honestly like the convenience of it, and it's really simple. It's so easy to just skip the line and go get your food. And of course, no one can steal my food, I have a specific locker to go to."
Kildow said, "I do think that the lockers have increased our pickup orders, which is great for our students. They're very busy. They have classes to get to. For them to be able to order while they're still in class, swing through, pick it up and head to the next class is a huge value for them."
More efficiency and throughput for employees
Employees of Carolina Food Co. also enjoy how the Apex Smart Food Lockers give them a simple, secure way to manage digital orders. Kildow said, "I think one of the things for our employees is they can just set it and forget it. They don't have to worry about that product disappearing to the wrong person and having to remake it later."
Retail manager Lewanda Nixon said, "The food lockers are helpful because we don't have to call out their names and wait for the student to come. And I think the students love it because the food doesn't get mixed up. They scan, grab their food, and go."
They don't have to worry about that product disappearing to the wrong person and having to remake it later on.
– Margaret Kildow, Director of Operations
Real-time data and insights across all locations
More than 28,000 orders were picked up from Apex Smart Food Lockers at the three dining locations in the first semester of use. With an average dwell time of about 10 minutes, Carolina Food Co. operators could reason that most orders are placed while students are somewhere else on campus, so they're ready to pick up when they arrive.
Carolina Food Co. controller Danielle Hewitt noted the value of the Apex software data. "Our reports tell us how many orders have been placed in the lockers and what the dwell time is for orders. So that's nice to use to compare what should be placed in the lockers. It also tells us if [the lockers] are at capacity sometimes, which would tell us we might need to implement more lockers at these locations. So, it's very nice data to look at and it's an opportunity for us to grow the lockers on campus."
Details that ensure the locker program's success
As food lockers gain popularity across dozens of colleges and universities, Hewitt and Kildow have recommendations on how to make food lockers successful.
Hewitt said, "I really like that we were able to customize the colors of the {compartment] lights to show which one is ready, and which order has been there more than the 30 minutes."
She also noted that it's important to select the right location for the lockers. "You need to make sure that wherever the lockers are getting placed, it works both for the students and for the employees. We had other locations where we wanted to implement lockers that just weren't feasible for employee use, or they were feasible for the employees but not the students."
Kildow added that Apex Smart Food Lockers will be an important consideration as they add future dining locations. "Now as we're building new locations, we're able to think about the lockers and plan them into our lineup, making sure that not only does that location work for the customer, but it works for the employees as well."