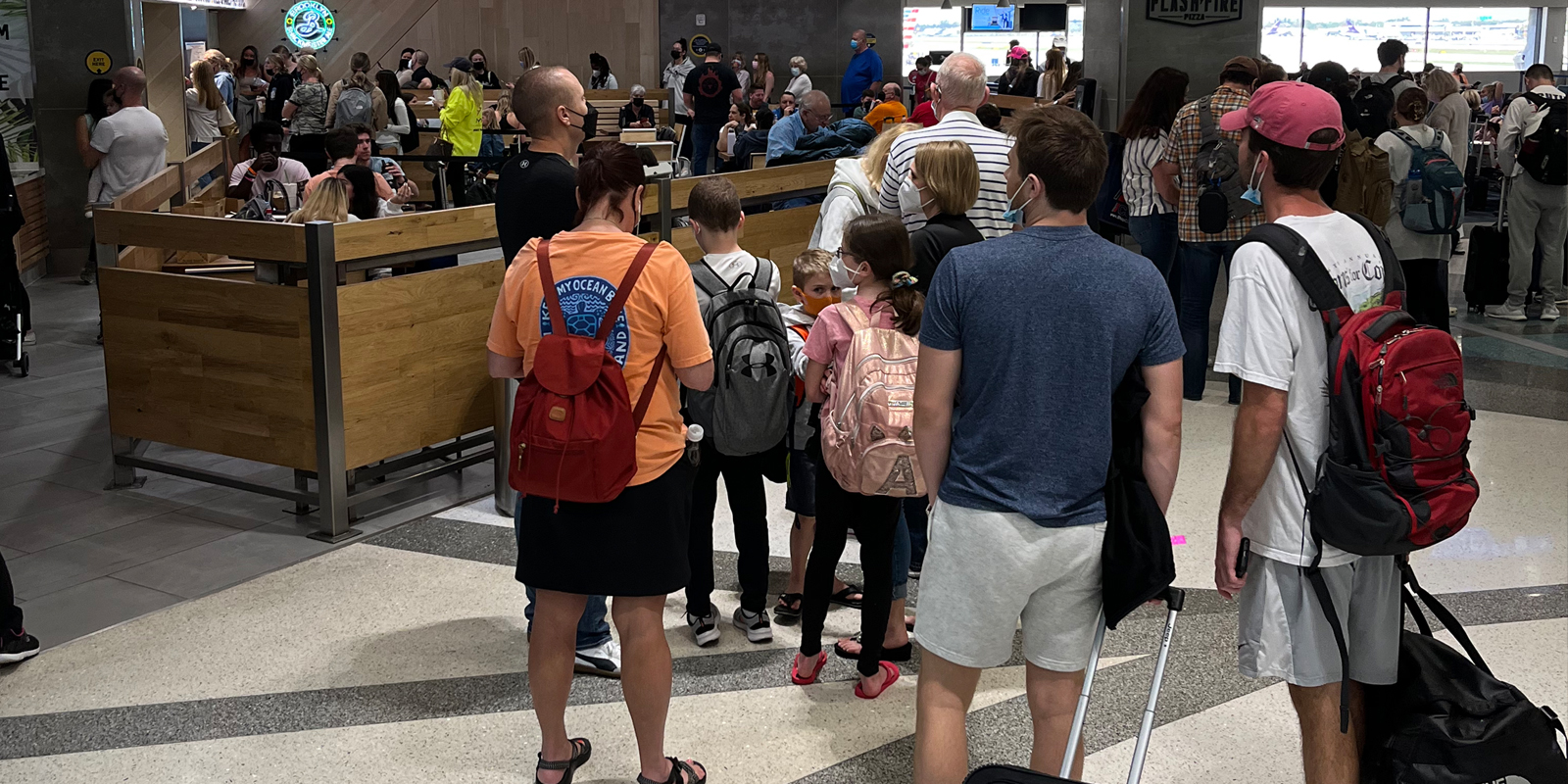 Long lines at airports are a familiar sight, and travelers have come to expect them. What they often don't expect is long lines at airport restaurants — which can be especially annoying when they're hungry and their stomach is growling. Restaurant lines are a more recent problem, one that many foodservice operators haven't been able to solve. Some have added technology like digital ordering or mobile apps to reduce lines at the register. Along with mobile ordering, several airports have also added Apex Smart Food Lockers to give customers order pickup in less than 10 seconds, while eliminating the crowding and confusion at the pickup counter or shelf. Let's take a look at how food lockers are giving air travelers one less line to worry about.
Why airport lines are the norm
Airline passengers have to do a lot of mental calculations when they're planning their time at the airport, because it involves some unpredictable lines. There are lines for the parking lot shuttle, lines at the ticketing counter, lines at baggage check, and then at security (and potentially customs and immigration) checkpoints. People shuffle into lines for terminal trains or shuttles, too, and when they finally arrive at their departure gate, they get in another line to board the plane. But that's not the last line they'll see that day. Once they step off the plane at their destination, they've got more lines for hotel shuttles, taxis or car rentals.
Of course, technology is coming to the rescue, steadily shrinking or eliminating some lines. However, as those lines are shrinking, ongoing trends are now causing longer lines at airport restaurants.
What causes lines at airport restaurants?
One reason for long lines at restaurants is sheer volume: More people are flying these days, especially during this summer's record-breaking travel season. An estimated 4.17 million Americans flew during the 2023 Independence Day holiday, up 6.6% from 2019 pre-pandemic levels.
Another reason for those long restaurant lines is the shortage of foodservice workers, which has been going on for years. Many airport restaurants continue to be short-staffed and can't get enough workers to be fully open, or stay open all day. This has a domino effect on the other restaurants in that concourse. Yes, they get more customers but if they're also understaffed, their service and speed will suffer. The result is long lines that snake over into the concourse, making it hard for other travelers to get where they're going.
And let's face it, airport travelers can be a little stressed-out, even in a best-case scenario. They're "on the clock" and worried about whether they have enough time to order, wait for, and eat their meal. If they see a long line, they'll probably just keep walking and look for a less crowded restaurant — or give up and grab a bland, pre-made sandwich or snack at a newsstand.
How technology reduces lines
Fortunately for busy (and hungry) travelers, help is on the way. Just look at how technology has reduced lines in other areas of the airport. Fliers can use their airline's mobile app to check in and get their digital boarding pass, skipping the line at the ticket counter. If they forgot to check-in before they arrive, they can use a kiosk to print out their boarding pass once they're there.
Now some time-saving technology is making its way to airport restaurants and retail stores, as operators invest in tech that promises fast, seamless guest experiences while optimizing labor.
In 2022, foodservice giant HMSHost doubled the number of ordering kiosks in its airport locations, as well as the number of restaurants using them. Customers welcomed them and use quickly grew. Some airports also now allow the use of third-party aggregator apps like UberEats for online ordering and delivery from their concessions, in some cases delivering directly to the customer's gate.
Now that digital ordering has streamlined the first step of the guest experience, operators are focused on making the last step of the journey just as convenient. That's one reason several airport operators are introducing OrderHQ™ Smart Food Lockers. They give travelers convenient, 10-second order pickup while optimizing labor for employees and providing data insights for operators.
Eliminating lines and friction for customers
At Raleigh-Durham International Airport, the getREEF Virtual Food Hall features nine local and national restaurant brands operating out of a single kitchen. All orders are placed for self-service pickup from a bank of Apex Smart Food Lockers. This reduces the labor requirements for these restaurants, and improves the guest experience, too. Customers can order from multiple brands in a single transaction and know their order will stay secure in its compartment until they arrive to pick it up.
In the first six months of 2023, RDU travelers picked up 50,821 orders from the lockers, with more than 16,000 orders picked up in June alone. The average dwell time (time the order spends in the locker) is just 2:16 minutes, which shows that travelers are wasting no time getting to their orders.
At Dallas Fort Worth International Airport, its Terminal D extension is a high-tech, relaxing space for travelers, featuring advanced technology and customer conveniences. For instance, customers can order food or drinks from any seat by scanning a QR code, with the option to get their order delivered to them or pick it up themselves from Apex Smart Food Lockers. They can enjoy their food and drinks anywhere in the terminal extension, operated by Star Concessions.
Terminal General Manager Ashley Stowers said, "People are looking for technology. This shows the guest that you're growing with the technology. I would recommend it highly to any airport, for sure."
Reducing work and stress for employees
Food lockers also make the employee's job easier, eliminating the need for frequent interruptions and conversations with customers. Once each order is complete, the employee simply loads it into a compartment and moves on to their next task. The customer can arrive at any time, and the employee doesn't have to stop what they're doing to come out and hand them their order. Imagine removing dozens of interruptions like this for every employee on every shift. It simply makes their jobs more efficient and stress-free.
As one employee at DFW Airport said, "It's actually just as convenient for the workers. It's less food that we have to run [to the customer's seat] and it's more convenient to the customers to come up and get what they really need."
Why smart food lockers are about to take off
Other major airports adding Apex Smart Food Lockers this year include Dulles International (IAD) and Cincinnati/Northern Kentucky International (CVG). We expect to see other airports adopting them as well because the benefits are so clear:
They give travelers more control over when and how they get their food.
They offer the frictionless, contactless experience many customers prefer.
They prevent long lines that can obstruct the flow of travelers in the concourses.
They virtually eliminate lost or stolen orders that occur with simple pickup shelves.
They attract guests who are short on time and might otherwise choose a retail food option.
They reduce customer complaints and disruptions for employees.
Families or groups can order from multiple restaurants and pick up at a single locker location.
They can help with recruiting and retention since they make employee work easier and less stressful.
Want to eliminate lines at your airport restaurant? Talk to one of our airport foodservice experts to find out how using smart food lockers can help you serve large crowds quickly, with less labor burden, while ensuring a better customer experience.