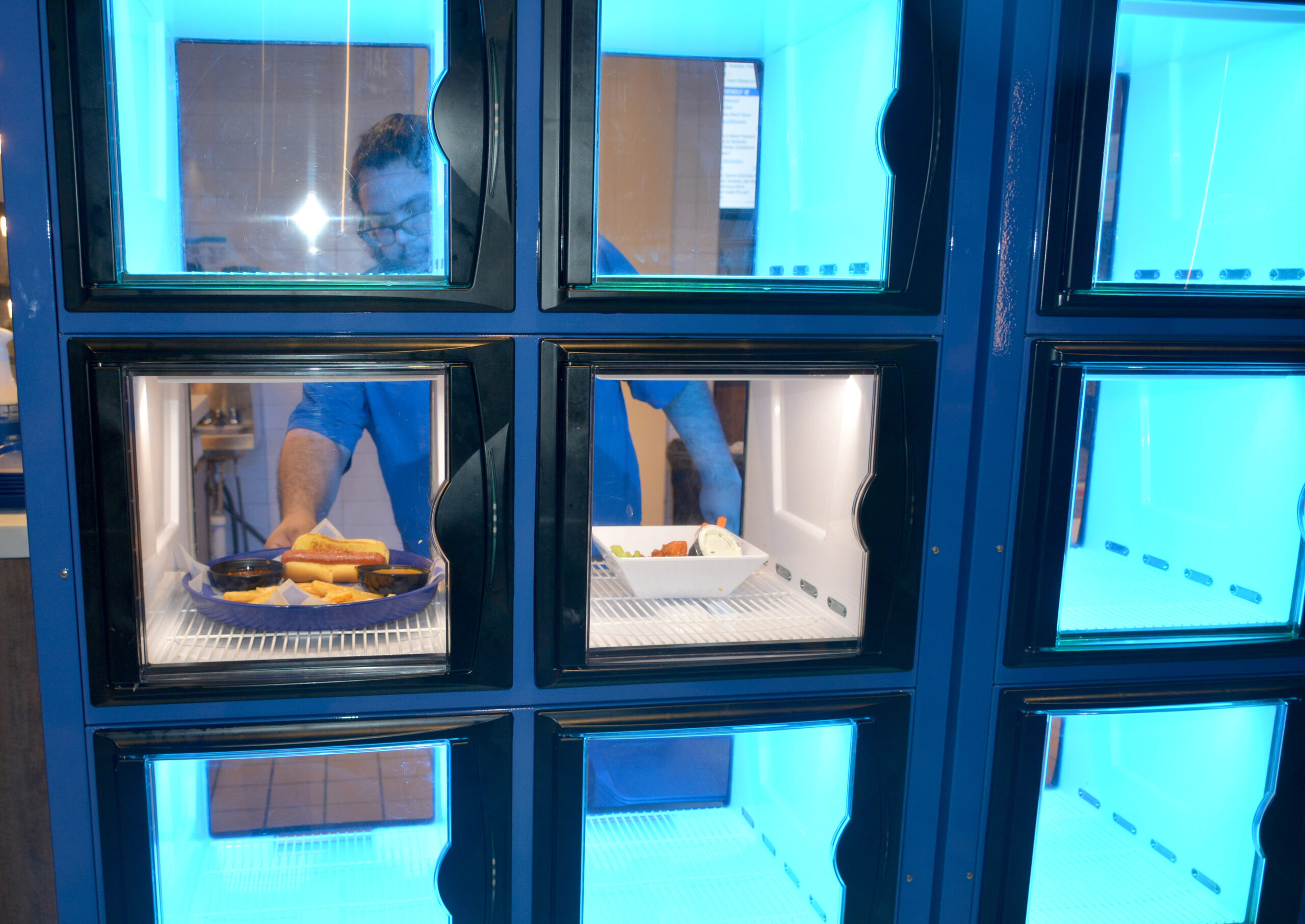 Each Apex locker saves us about 8 labor hours a day.
– Rob Lehman, Chief Operating Officer, Santikos Entertainment
Santikos Entertainment® of San Antonio, Texas, has been known for its innovations since the early days of the cinema industry. It has a reputation for combining leading-edge technology with amenities movie-goers love.
Its 10 locations feature a mix of offerings such as high-end digital projection, deluxe recliners, seat-side food and bar service, arcades, virtual reality areas, laser tag, sports bars and cafés. Of course, concessions are a highlight of almost every guest's visit, and that's an experience that Chief Operating Officer Rob Lehman wanted to perfect.
"The guest experience is at the center of everything we do," says Lehman. "We're always challenging ourselves, asking where we can go next. We began working with Apex to make order pickup as seamless as the rest of our guest experience." Santikos soon found it was able to reduce concessions labor at a time when the industry struggles with labor shortages and rising wages.
Enhancing the Guest Experience with Technology
Santikos' concession areas were often crowded with customers waiting to pick up orders like burgers, appetizers or pizza. Employees would call out the guest's name for each order, sometimes leading to confusion or mistakes.
Santikos selected the Apex Flow-Thru locker solution, with its efficient, two-sided design. The compartments are open in back so employees can easily load orders, while guests pick up at the front by scanning a secure pickup code. The experience is fast, contactless and adds an element of fun for guests.
"The guests are excited about the lockers, and the LED lighting attracts everyone's attention as they walk through the lobby," adds Sarah Luis, Santikos Operations Coordinator.
Giving Employees an Easy, Seamless Workflow
More importantly, the solution's software easily integrates with dozens of popular technology systems used by cinema and foodservice operators, including Vista®.  Once Santikos completed its Apex/Vista integration, employees no longer needed to manually enter order information. Soon after, Santikos was able to reassign more than two dozen expo employees to other roles in its theaters.
Lehman said, "Early on, theater and kitchen managers had questions about the Apex solution. But once they saw it in action, they were all in. The new workflows were easy for line employees to learn. They picked up on it quickly and enjoy the new process."
Labor Needs Plummet
Today, the Apex locker solutions handle nearly 6,100 orders per month across all Santikos locations. Santikos has also seen a big savings in labor thanks to the new technology. Lehman says, "We've found that each locker saves us the equivalent of 8 labor hours every day."
"Cutting steps from the process and reducing the labor is exactly what we wanted to do. And moving forward, we'll continue tracking transaction volume and order size for more results."
Focusing on the guest experience is clearly paying off as Santikos continues to grow. It also helps ensure that the company will continue to lead the way as the cinema industry faces disruption and new challenges in years to come.