New food lockers offer guests faster, safer order pickup
CHALLENGE: Quickly implement contactless order pickup to reduce crowds and lines, while integrating with an existing mobile ordering platform
SOLUTION: Two 15-door Apex Order Pickup Solutions dedicated to two restaurant concepts
RESULTS: More than 9,230 orders picked up in the first 12 weeks, reducing lines and crowding
When the dining team at the University of Arizona first started looking at Apex Order Pickup Solutions, no one had heard of COVID-19.
"We were initially looking at the Apex solution as a way to deliver food to buildings on campus that don't have a food offering, instead of building out an entire restaurant," said Christine Carlson, Senior Associate Director of Dining and Nutrition. The university's self-operated program offers a mix of one residential and roughly 30 retail concepts to serve the university's 42,000 students, as well as faculty and staff.
A quick pivot was needed
But the pandemic threw them a curveball, and the team quickly developed a comprehensive plan to reduce risks known as Arizona Dining SMART, which stands for:
Sanitize and clean
Maintain social distancing
Accommodate dining offerings
Require employees to follow COVID-19 guidelines
Tech-driven approach
Carlson realized that Apex contactless food lockers could play an important role in the SMART program by providing contactless order pickup and encouraging social distancing.
Carlson added, "When considering new technology, I always ask two questions: What problem is this solving? And is it easy to use, for both employees and guests? This smart locker technology really met both of those requirements."
The Apex team began to move quickly. The goal was to install the smart locker solution in time for fall semester, less than eight weeks away.
Ensuring a quick and strategic implementation
The Arizona dining team chose the Student Union Memorial Center for the locker installation. Working with their Apex team, they chose four Flow-Thru order pickup lockers, two for a restaurant called IQ Fresh and two for a restaurant called On Deck Deli. Each received a custom-branded design and were labeled "Blue Wildcat East" and "Red Wildcat West" for clearer way-finding.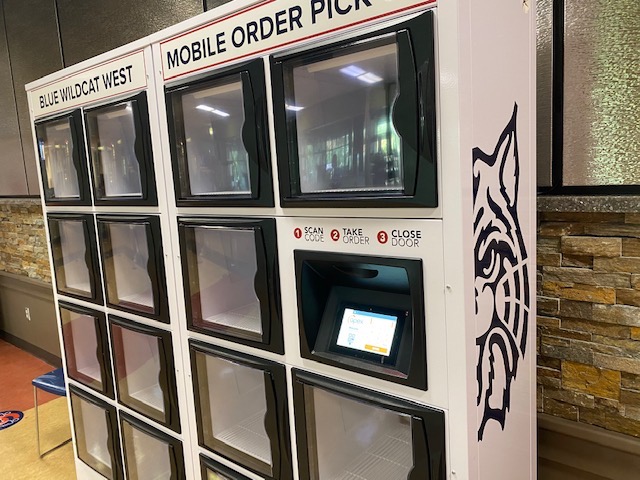 The lockers were placed in a corridor just outside the food court. This provides the added benefit of naturally separating the customers for the two restaurants, as well as from customers ordering in the food court.
The University of Arizona uses Grubhub for its mobile ordering, one of the platforms Apex has built a native integration with. This sped implementation and ensures a seamless experience for both employees and customers.
"I was impressed at how quickly we were able to get these going," Carlson added.
Easy for employees and customers
When an order comes in, the Grubhub app talks to Apex Cloud to create a delivery code and prints out on a ticket in the kitchen. When the order is ready, an employee takes the ticket to the locker and scans the delivery code, which pops open a door. The customer receives their unique pickup code by email or text, then simply scans that code at the locker, and their correct door opens.
Because the process is pretty simple, training was quick. Apex provided remote video onboarding to key members of the UA team, who then trained staff and student employees.
Busy customers can now enjoy the convenience of being able to skip the regular line and pick up their order in seconds from a secure, contactless locker. As one student said, "It makes it a lot easier because you can see the whole menu on your phone. You don't have to stand in line and you don't have to come in contact with anyone. You just come in, grab your food and leave."
Looking beyond the pandemic
"We chose Apex because they're super easy to work with. During the rush to open for fall classes, they worked with us to make sure they could get our solution delivered in time, and the delivery and implementation was seamless," said Carlson.
Once the university returns to full capacity, Carlson would like to consider expanding the banks of lockers to accommodate even more traffic. She finds tremendous benefit in providing fast, self-serve pickup, especially during lunch or dinner rush, as it will help with the general flow of traffic in and around the food court.
In addition, there's potential to add Apex Order Pickup Solutions to other buildings across campus to fulfill the team's original goal of providing convenient food options wherever students, faculty and staff need them.
Carlson said, "As new buildings go up around campus, we get requests to add a dining option or coffee shop, but there's not always an opportunity. By delivering orders from nearby restaurants to the Apex lockers, we can expand our portfolio and provide convenient options to these patrons."