by Cami Reynolds, Cinema Channel Lead Contractor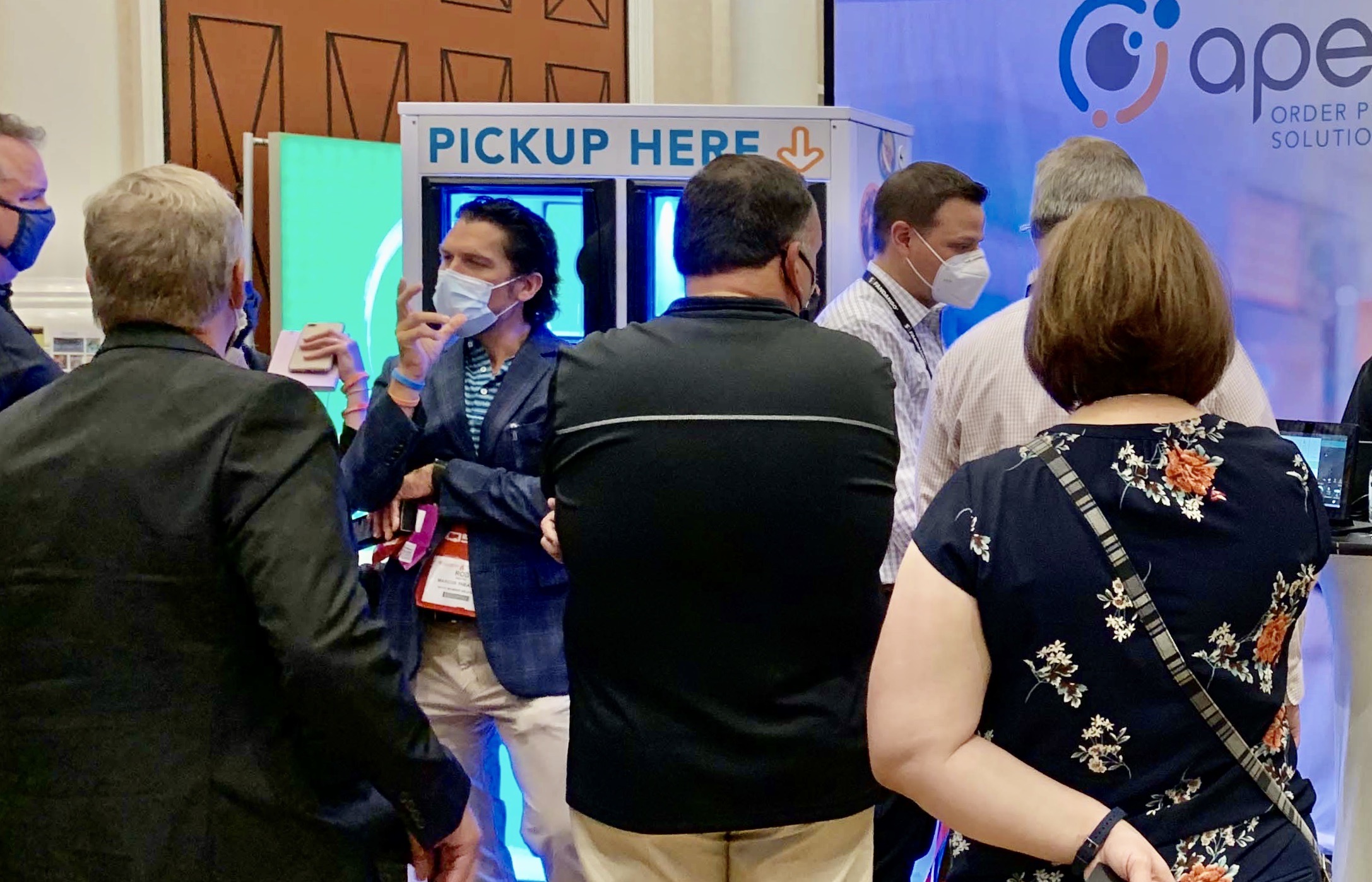 A quick recap of our debut at the cinema industry's largest conference
Recently, Apex headed to Las Vegas to attend the largest cinema industry conference in the world: CinemaCon, the official convention of the National Association of Theatre Owners (the other NATO). Due to COVID-19, this year was the first time the conference had been held since 2019.
Industry execs were excited to finally gather again, hear from leaders about the state of the industry, attend studio presentations, and meet with the many suppliers and partners who help bring all aspects of the moviegoing experience to life.
Making our CinemaCon debut
The most important part of CinemaCon for cinema supplier partners, aside from connecting with folks at the bar(!), is the two-and-a-half-day Trade Show that takes place in two massive ballrooms. The Apex team set up our booth, complete with an Apex seven-compartment Flow-Thru smart pickup locker, its Vista-integrated point-of-sale display and a video showcasing our successful test and expansion with Santikos Entertainment out of San Antonio, Texas.
With this year being our first time attending CinemaCon, we weren't sure what to expect or how our smart locker solution would be received; nothing like it had been showcased at CinemaCon in the past.
A big thumbs-up from cinema exhibitors
By the end of day one at CinemaCon, we were blown away by the positive response we were getting from attendees, many of whom are interested in creating a more mobile-based and efficient concession order and pickup experience for their guests. We heard comments like "we were just talking about how we need a solution like this," or "we have been trying to increase mobile app orders and this would be a great solution," or "we need this to manage increased digital orders and something like this is exactly how our guests want to manage their experience" or, our personal favorite, "this is the most unique concept I have seen at the show."
It became clear that cinema exhibitors are hungry for more innovation and digitization in the concession space and that our pickup locker solution with Vista POS integration, a leading point-of-sale cinema partner, resonates with how they see the future of concession ordering.
The time is right for concession pickup lockers
We conducted countless demos and from discussions with owners, food & beverage, technology and operations leaders, learned more about why an integrated smart-locker solution makes sense for cinemas. We left CinemaCon bullish about the potential to help cinema exhibitors leverage our solution and POS integration to support labor challenges, grow mobile app food ordering adoption and create an overall more efficient guest concession ordering experience.
Our timing could not have been more perfect and we look forward to working with our new cinema partners to welcome back cinema-goers with a new concession order pickup experience. Sound good? Be sure to check out Apex smart locker solutions for cinemas, stadiums, arenas, and other entertainment venues.