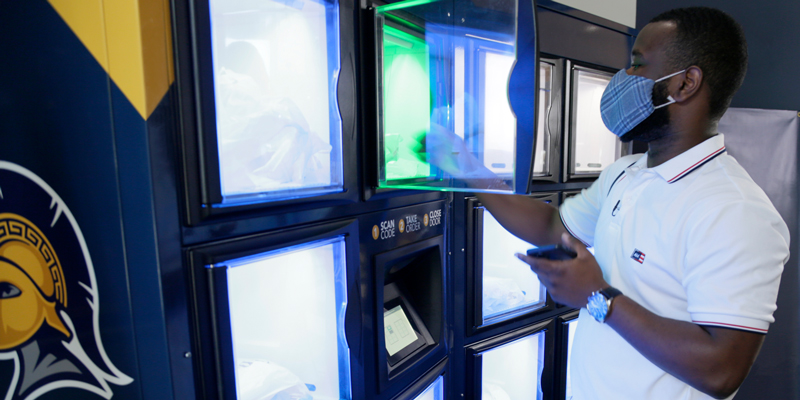 Students come in, grab their food from the Apex locker, go back and get
their work done.
– Ryan Murray, Marketing Director, Spartan Dining
The Spartan Dining program at the University of North Carolina, Greensboro, operated by Chartwells, needed a way to expand contactless food pickup to ease crowding during peak mealtimes, and streamline their operations. This became particularly important when social distancing recommendations were in place on campus. The school was using the Grubhub Campus Dining app for mobile ordering, and when the school discovered Apex Smart Food Lockers are integrated with that technology, Apex became an obvious choice for providing contactless order pickup.
Prior to installing the 15-compartment Smart Food Locker solution, students who ordered food to go waited alongside students who ordered on site. This often led to long lines and confusion for both dine-in and carryout guests. The new Apex food locker solution alleviates lines and crowding while simplifying the order handoff process for employees.
Installing the food lockers "adds a new dimension, and new value for our students and guests here on campus," said Ryan Murray, marketing director for Spartan Dining. "We're really happy with it, and we think it's going to continue to grow. We've had great feedback from students, faculty and staff."
Providing faster, more convenient service
Typical of college and university campuses, UNC Greensboro students, faculty and staff are constantly on the go, moving between classes, meetings and extracurriculars throughout the day. Using contactless order pickup makes it easy to place an order on the Grubhub Campus Dining app and know when it's ready through a text message, email or in-app push notification. Once the customer arrives at the dining hall, they scan a code at the Apex food lockers to get their order. Lights indicate where the order is and its status.
The system is easy for Spartan Dining staff to use and helps ensure food is picked up while still fresh, Murray added. "We track how many orders come in, how many have timed out, how many were successful, so we confirm all of that and then go through the data of how much we're actually producing with the lockers."
Contactless order pickup helped facilitate social distancing as students returned to in-person classes during the COVID-19 pandemic, since there's less queueing to wait for orders. Spartan Dining staff sanitize lockers after each use. Murray anticipates the food lockers will continue to be popular even after the pandemic.
"It's a convenience thing," Murray said. "Students can order while they're on the way from one class to the other, come in and pick it up with no waiting, then they're on their way."
University employees appreciate the system, too. A bookstore employee remarked, "I get a half-hour lunch break, and it's great that I don't have to clock out until I know that my food is ready."
Enhancing the campus dining brand
It was important for UNC Greensboro to have attractive food lockers that reflect the brand of the university, as well as the Spartan Dining program. The staff worked with Apex's marketing team to create a design for the lockers and chose a location that gets a lot of attention. The team also produced videos for social media explaining how to use the lockers and enjoy contactless order pickup. The lockers are highly visible during campus tours, with prospective students interested in the convenience they offer.
"I think we did a good job with it," Murray said, noting that other campuses are now interested in the system for their student dining. With UNC Greensboro back to full capacity, Murray is exploring expanding the campus dining program, and will consider adding Apex Smart Food Lockers across campus.

Read more about Apex Smart Food Lockers for campus dining, and discover how easy it is to get started offering fast, contactless order pickup for your guests.