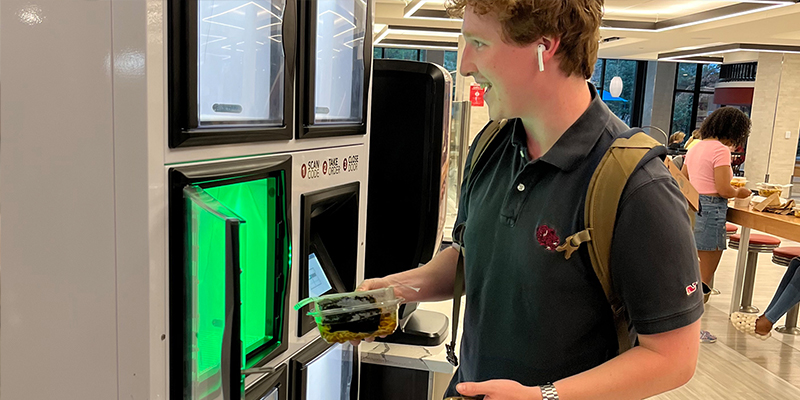 Dozens of college and university dining programs have discovered that adding smart food lockers for mobile orders is an easy choice. After all, students love mobile ordering and the convenience of self-serve pickup on their own schedule.
However, choosing where to actually place those food lockers takes a bit more thought. Factors such as proximity to high-traffic areas, the distribution of dining options on campus or even where the lockers are placed within a facility can have a big impact on the success of the program.
It's a good idea to choose a food locker provider with broad experience in a variety of markets. They can share their experiences with how guests actually behave with the lockers, not how foodservice providers wish they would behave.
Apex works closely with campus foodservice directors, their IT teams, contract foodservice operators, mobile ordering providers and others to help determine what locations will work best for their students while providing the most benefits to their employees. Here are some tips and advice our customers have shared.
1. Place lockers where they work for employees as well as students
The University of South Carolina's foodservice operator, Carolina Food Co., added smart food lockers at three dining locations, including two proprietary brands and a national-brand bagel shop. Director of Operations, Margaret Kildow, explained that they chose food lockers with a flow-thru design, where possible. This allows employees to place orders through the open compartments in back, without interrupting guests picking up at the front. It also means the lockers need to be placed a few feet away from the wall to provide access in the back.
Danielle Hewett, controller for Carolina Food Co., was involved in selecting the lockers as well as their locations. Hewett said, "My advice is to not only look at locations that would be able to utilize them frequently, but also look at the placement of them. They have to be accessible and easy for the employees to use just as much as the customer."
Hewett also recommends using the data the food lockers provide. "We get data that tells us how many orders have been placed in the lockers and what their dwell time is, and if we're at capacity sometimes. So, we can ask if we need to implement more lockers at these locations and see if it's an opportunity for us to grow the lockers on campus," she said.
2. Pair ghost kitchens with food lockers to enhance dining options
At Rider University, foodservice operator Gourmet Dining was preparing to renovate an existing dining facility and wanted to add a popular retail sandwich chain to its offerings. There was plenty of space in the back of house, however, there wasn't enough space for counters and other needed equipment in the front of the house.
Gourmet Dining's team proposed converting the space into a ghost kitchen for the brand, where food could be prepared behind the scenes and placed in smart food lockers for fast, secure pickup.
"Our goal was to also control build-out costs and reduce overhead for our clients. We found we could do all of this while maintaining brand integrity for this popular national brand," said George Kuzma, VP of Business Development.
Andrew Pignataro, Assistant VP of Auxiliary Services at Rider University, added, "Students order when they're 10 or 15 minutes out, knowing they'll be able to come in, grab their food and be on their way. It provides that 'wow' factor for students and gives them a great product."
The location has only gotten more popular in the time since it first opened in 2019. In fact, in the Fall 2022 semester, more than 18,000 orders were picked up by busy students craving a sub.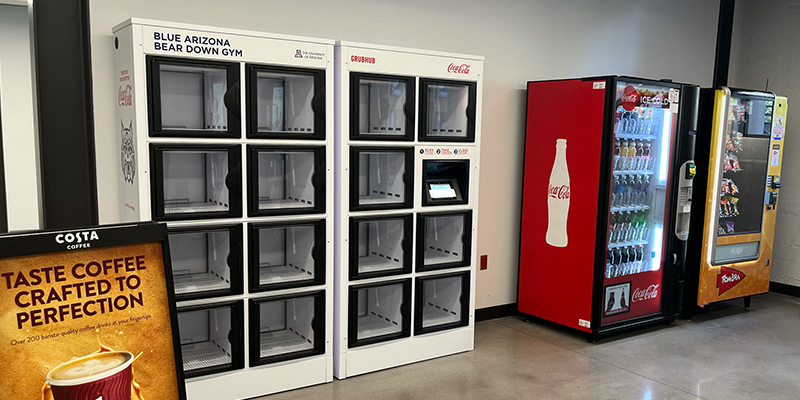 3. Expand dining options with hub-and-spoke locker placement
At the University of Arizona, food lockers have been used in a variety of settings since 2020, according to Christine Carlson, Director of Dining and Nutrition. "Before the pandemic, we were looking to use lockers for those pockets of campus that were low on food options." However, while this plan was in the works, Covid arrived and changed everyone's priorities.
Carlson's team shifted their focus to social distancing and contactless order pickup. They added two sets of lockers to the corridor just outside the food court at Student Union Memorial Center. This reduced lines at the counters and provided more space for social distancing.
As the pandemic eased up, Carlson once again looked to increase dining options around the campus with a "hub-and-spoke" approach. One of her first successes was adding lockers at a grab & go market in a gym not far from the Student Union Memorial Center. "Now those food court locations can run food over there so that students who are using the gym or studying at the library can quickly go pick up food there," said Carlson.
Students love the convenience and flexibility, and it's a great complement to mobile ordering with the Grubhub app. As one student said, "It makes it a lot easier because you can see the whole menu on your phone. You don't have to stand in line, and you don't have to come in contact with anyone. You just come in, grab your food and leave."
With the proven success of smart food lockers at dozens of colleges and universities, now is a great time to take advantage of their convenience, efficiency, and data insights. We invite you to talk to Apex to get more great ideas for implementing smart food lockers, and proven advice on ensuring their success.