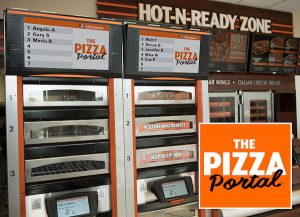 Recently, Little Caesars, home of HOT-N-READY®, gives its patrons a glimpse into the future by streamlining the process of getting a pizza with a new, customer-focused RESERVE-N-READY™ service.
The service features a breakthrough device called the Little Caesars Pizza Portal™, the first heated, self-service mobile order pick-up station in the quick-service restaurant industry. This device was co-developed by Little Caesars with Apex Supply Chain Technologies®.
The Little Caesars Pizza Portal is designed to make it as convenient as possible for Little Caesars customers to get their pizza by allowing them to skip waiting in line. The RESERVE-N-READY service is scheduled to roll out nationally in 2018 after testing in two markets.
Click on the links below for more on this news.
Little Caesars® Pizza Portal™ Pickup and Its Mobile App Now Available Nationwide*, Transforming the Way Customers Get Pizza – Little Caesars
Little Caesars to expand Reserve-N-Ready platform — Nation's Restaurant News
Little Caesars Launches 'Pizza Portals" To Get Hot Pizza into Your Hands More Quickly — Cheddar