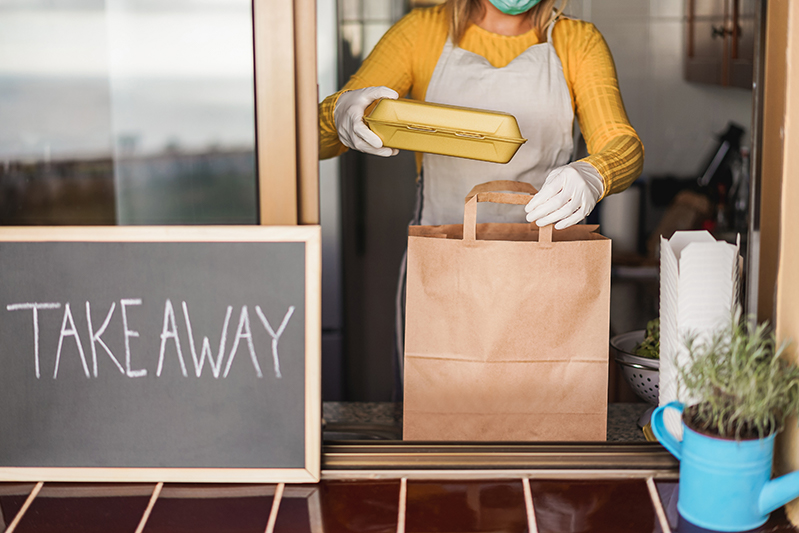 A seamless order pickup experience is critical to customer lifetime value
Future Focused & Financially Healthy
Restaurants have traditionally prioritized return on invested capital (ROIC) as the most important metric to understand unit profitability. However, a year of COVID accelerated the introduction of integrated technology to serve the new omnichannel customer. At the same time, Customer Lifetime Value (CLV), long a critical metric for retail, rose to be seen as equally vital to restaurant financials. As newer digital channels take hold, the "owned customer" experience will directly contribute to driving operational stability and profitability. The higher the CLV, the healthier the operational returns will be.
So let's step back and examine Customer Lifetime Value. It's a calculation of average ticket, average transactions, visit frequency, and churn. Put more succinctly, "CLV is the projected amount of revenue a customer will generate over their lifetime at your business.¹ Clearly, CLV increases when a loyal customer is developed and, more importantly, retained. Developing customer loyalty strategies begins with a quality product and ends with a seamless, better than expected customer journey. One element of the equation cannot be sacrificed to the other. Your product, your interactions with the customer, and your staff's job satisfaction are the combined drivers behind consumer loyalty. Any technology you introduce should facilitate efficiencies and amplify these drivers, not diminish them. Loyal customers contribute more to same-store sales over time.
Implementing digital channels and processes to increase CLV requires more than simply introducing new technology and generating data, though. It is really about how a brand deepens the customer relationship by flawlessly executing throughout these technological touchpoints in the customer journey. An omnichannel approach is now expected and required by today's new tech-savvy customers as digital adoption and mobile use increases.
Corey Kline, VP of IT at Noodles & Co. said, "The imperative has become the digital experiences that honor and flex based on the characteristics of the order and the guest, in real-time¹." Data derived at key points throughout your operations will provide the insights you need to grow both. Processes should be established to routinely calculate and improve the CLV as an investment in the future of the business.
Here's a point even the smartest restaurants sometimes overlook: The digital customer journey does not end with order placement and payment. The final handoff of an order is your last opportunity to make a positive impression on your guest, leaving them with assurances of quality and future reliability. Consumer adoption of technologies like order ahead via app, contactless pay options, QR codes for menus, delivery and curbside pickup continues to increase the demand for alternatives to the old way of doing things. We have seen a lot of overflowing pickup counters, to-go order shelves, some a bit scary, become that last impression your guest has of your brand.
Ease of Convenience: The Pickup Journey
Brands should be cautious believing the introduction of technology is "the answer" or that getting 95% of the customer journey right is good enough. Consumers have high expectations shaped by years of similar digital experiences with online travel booking, omnichannel retail, and powerful new consumer apps – in other words, how they conduct their lives every day. Simply saying, "We have an app!" or "You can reserve through the website!" or "Pay with your phone!" isn't enough. All are powerful innovations, but no single spot solution tells the whole story or solves the whole problem. Each is a building block in a comprehensive strategy a restaurant can build to secure the next generation customer²."
Digital adoption and self-service will become the norm in foodservice, aligning with evolving customer requirements. Consumer safety, new store design … will create continued demand for contactless technologies.
— RTN Off-Prem Workgroup —
Pickup locations should be in visible, designated areas with good directional signage. Re-imagined areas can include pickup lockers that are integrated with your digital ecosystem. This technology ensures a contactless and secure experience for your customers and your employees. The best pickup systems will not only provide safety and security, they will also deliver connected insights that let you develop a richer analysis of your digital, off-premises customer. A smart pickup system reinforces assurances of in-place safety measures and reassures the customer with communicated and accurate pickup times. Remember that enhanced carryout experiences provide another opportunity for one-to-one communication with guests. Attention to this last detail has been shown to facilitate increased spending and frequency of visit time, positively impacting customer lifetime value.
Look seriously at the possibility of updating your designated pickup shelves with smart, connected solutions like the Apex Order Pickup Lockers. These solutions provide everything your operator and consumer need from this order fulfillment channel.
The customer is alerted to their order readiness, given a secure access code and assured that the quality, safety and security of that order is guaranteed by the brands they love. Operators realize efficiencies similar to a drive-thru channel by minimizing the amount of labor required and leveraging timers for operational accountability. They also create a less stressful environment for employees by facilitating a reduced need for unnecessary customer communication or recovery activities.
Finally, these devices are smart because they provide a restaurant or brand the capability to understand their omnichannel consumer and their operational performance at an even deeper level across the entire corporation, down to the individual transaction at every site.
Digital & Technology Prioritization
This past year has shown that digital hospitality is still hospitality, after all, and understanding the customer is important. Unpredictable consumer behaviors, rapidly evolving market trends, and multiple channels have forever impacted the management of the unit operations. Similarly, the customer journey may have added unforeseen complexity as your customer moves through the digital ecosystem and into your actual restaurants.
Connectivity throughout your digital ecosystem provides an opportunity to understand behavioral data combined with demographics and the unit level. These inputs can be used to produce an aggregated picture of the customer journey. This insight is only as good as the data produced by the vendors you choose, and how you choose to put that data to work for your brand as the market continues to evolve.
Gaining insight into the new omnichannel customer and optimizing both your digital order intake and fulfillment processes will relieve the pressure on more traditional means of serving customers. Order fulfillment happens across all channels and in many different combinations; in-store ordering/pickup, dine-in, carryout, curbside, native or marketplace delivery, and drive-thru.
"While it sounds simple, 2020 taught us that our dining rooms were not always an option and our drive thru can be a bottleneck³," said Chris Shaffery, VP of Ops at White Castle. Drive-thrus, once the bastion of convenience, are now clogged with third-party delivery drivers picking up large or multiple orders, customers that ordered ahead, and your regular everyday visitor. Similar to the activity of scoping out the shortest and quickest grocery store checkout line, your consumers hope that ordering ahead of time for carryout or getting in the drive-thru line will ensure they get their order faster than everyone else. Instead, this can create new bottlenecks for operators to address.
Remember that digital channels aren't only about data. Most restaurants have boosted both customer affinity and revenue by offering contactless technologies, including "touch-free" in-restaurant pickup. Some experiences aren't even informational at all: The coin of a restaurant's realm is food, and free samples can help appease customers during non-favorite moments such as waiting for a table or waiting for a take-out order to become ready³. Now more than ever, it is critical to offer your consumers choices in how they place orders, pay for those orders, and pick them up and it's table stakes to reduce errors and frustrations your operations might have inadvertently created.
Practical Tips for Launching New Technolog
Loyalty begins with the relationship between the customer and the brand. Touchpoints along the customer journey leave either positive or negative impressions that can affect loyalty and, therefore, customer lifetime value. Every brand is beginning to compete across more digital channels than ever before. Once, a forward-looking consumer who wanted digital experiences was a small minority. Today, it's the norm. Consumers everywhere are acquiring new habits and setting high expectations for every experience they are having at restaurants. The introduction of new technology should provide measurable gains in accuracy, customer experience, labor, and throughput.
A few things to be mindful of when setting out to enhance the digital 
Don't expect new technology and programs to be quick-turn solutions that solve all of your guest needs in one day.

New program rollouts under a time crunch tend to be more successful as an iterative process instead of a rigid mandate.

Look to both your customers and employees to provide feedback.

Plan your tech stack integrations and have confidence that layering in new partners is a good course to take. That said, do not be afraid to shift tactics when something doesn't seem right.

Make sure you really understand the problem and address the real pain points, not the perceived ones.
Technologies like the Apex Order Pickup Locker System positively contribute to the customer loyalty part of the CLV equation, adding up quickly when brands are able to increase the amount those customers spend each visit through their digital ordering channels. Our number-one goal is to make it easy to operate the restaurant and delight the consumer. As with many technologies, it can pay to become an early adopter instead of sitting back and waiting for competitors to prove out new technology. Doing so helps accelerate the product, with the early adopters influencing the end result.
Remember, there is not a single bookshelf out there that can provide all that Apex Order Pickup technologies are able to provide.