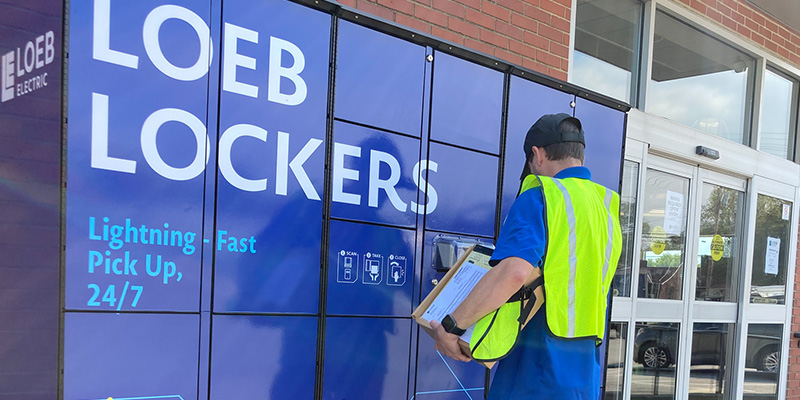 Growing sales brings crowding and lines
Like most wholesale distributors, Loeb Electric was seeing rapid growth of will call orders at its main store in Columbus, Ohio. Many customers were pre-ordering the parts and supplies they need, and coming in later for pickup in store. However, the popularity of this service left room for improvement when it came to the order pickup experience.
As will call orders grew, lines at the service desk grew as well. Will call customers were waiting with walk-in customers who needed help from the service team. In addition, Loeb's fulfillment employees were devoting a lot of time to ensure that the right order got to the right customer, even after hours.
Taking aim at wait times and inefficiency
To improve the order pickup experience, leaders at Loeb Electric started exploring the use of pickup lockers like those found at home improvement stores. They ultimately chose smart Order Pickup Lockers from Apex. These systems can integrate with a company's ERP or mobile ordering software to deliver greater efficiencies and visibility for internal teams, improve order accuracy, and provide fast, self-serve pickup, even after regular hours.
Manager of Area Stores Dave Schwab noted, "Some of our goals were to improve wait times, reducing the congestion that took place at the counter, and being more productive from a labor standpoint."
Senior Director of Marketing Brandi Seich added, "It also shows our customers as well as potential new hires that we're investing in our business and we want to be one of the best electrical distributors."
A faster, more convenient order pickup experience
Customers appreciate the practical benefits of being able to get in and out quickly. Peter King, a field supervisor at Union Electric, said, "It's a time saver. I don't have lost production time with my crew. I don't have them standing in line. They get their parts and they're on the road."
Juan Garcia, Branch Manager at the headquarters, said, "Our customer knows that once they get that code, that means their order is ready. They are not going to come to our store wondering if it is ready for them, wondering if it is accurate."
Loeb Electric is looking at expanding the lockers to its other locations in central Ohio. In addition, the lockers provide options for innovative ways to get parts and supplies where their customers need them.
Executive Director Scott Sarno said, "What I like is the opportunity to put lockers in locations where we currently don't have a branch. It gives us some flexibility and it keeps up with the way a lot of our customer base is doing business now."
"It definitely has helped us to be more efficient as an operation and return that value back to our customers," noted Schwab.
Benefits that expand over time
Loeb Electric conducted an online survey to assess their customers' satisfaction with the order pickup experience. Seich noted, "Through a survey, we were able to identify that 100% of our customers were  satisfied. This was something that was saving them time. It was easy to use, and they would use them again."
That time savings is often multiplied across a crew. "Often it's not just that one person saving time. Being able to bypass that line could be saving time for that one individual, and other people or a crew that is waiting for that material," said Schwab.
As a field supervisor, King sees how the time savings and 24/7 availability play out for his company's customers, too. "The thing that I like most about the lockers is my guys can come in after hours and get the parts that they need and not have to rely on the store being open. It'll keep our time down, which means I can keep my prices down, which means that we can please our customer, and get more customers in the future because of that."