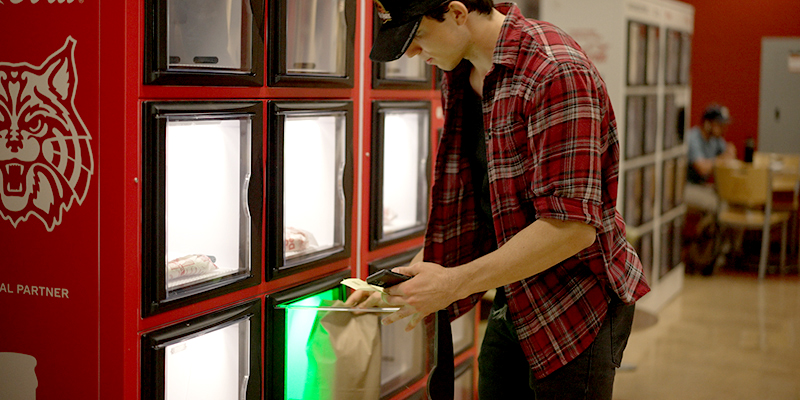 Successful food locker program adds even more convenience
When we first introduced the University of Arizona food locker program, it's campus was in the midst of multiple COVID restrictions. But their story actually began months earlier.
"Before COVID, we were looking at the Apex smart food lockers as a way to deliver food to buildings on campus that didn't have a food offering, instead of building out an entire restaurant," said Christine Carlson, Director of Dining and Nutrition.
As COVID arrived, it was clear that the lockers would solve the more urgent challenge of providing contactless pickup at existing dining centers. By fall semester of 2020, Carlson's team had installed two sets of Apex food lockers in the hallway outside the Wildcat Food Court at the Student Union Memorial Center. This provided a contactless pickup option for takeout customers, while reducing lines and improving social distancing inside the food court. It also gave dining employees an added measure of safety by minimizing contact with customers.
Combining innovation with technology
The Apex food lockers were a natural fit within the University of Arizona's wide selection of foodservice technology, including mobile ordering, smart vending, mobile pickup, and delivery robots. Each technology was carefully chosen to help students, faculty and staff get their food orders as conveniently as possible and provide the digital options today's students expect.
"For the lockers, we were looking for something that might be integrated with our mobile ordering partner, Grubhub Campus Dining," Carlson said. "We learned that Apex was partnering with them already. So, it really works seamlessly for our students who were already very used to that app."
For busy students, the food lockers are a big plus. One student who had just picked up his order said, "I'm going to walk past this locker anyway, so I just use it. It's convenient, and really simple."
Labor-saving benefits for employees
For most campus dining programs, finding enough employees to fully staff every location is still a challenge. "It's a nationwide issue. We're still experiencing shortages, so we had to think smarter about how we utilize our labor and how we can be efficient with it," said Carlson.
Emily Romero, Assistant Director of Dining at Wildcat Food Court, explained how the food lockers work. "As mobile orders come in, a receipt is printed out on the Grubhub printers. Each receipt has a barcode at the bottom of it. The employee goes up to the locker, scans the barcode, and the door opens. They place the food in, hit 'order complete' and it's done. Then the guest can just come pick up once they get notified that it's been loaded."
Another benefit for employees is that once they load the order, they don't have to touch it or think about it again. The right order always goes to the right customer. Employees know that the order will be secure until the customer scans their order code to claim it. They can quickly load the next order and increase throughput during busy peak hours, or turn to other tasks.
Apex food lockers also generate valuable data on metrics such as order make time, dwell time (the time the order spends in the locker) and pickup time, which can be used to improve efficiency as well as guest experience.
Creating ghost kitchens to improve variety
Providing a variety of dining options has always been a key goal of the University of Arizona dining program. When COVID forced the closure of some of its dining locations, Carlson and her team came up with a creative solution to make use of under-utilized kitchen space.
"We really wanted to make sure our students had a lot of variety, not just a few locations, even though we were short staffed when we reopened this year. So, we looked at how we could set up ghost kitchens in locations where we have more offerings, utilizing our staff to prepare different types of food and then allowing for pickup for those ghost kitchens through the lockers," said Carlson.
"We wanted to provide food from Sabor, a popular Mexican restaurant on campus. We had cooks in an all-you-can-eat location that had extra capacity, so we created a ghost kitchen using that staff to prepare the Sabor orders, adding another set of food lockers for pickup. Later, we were able to get enough staff to fully reopen Sabor, using the lockers for mobile orders."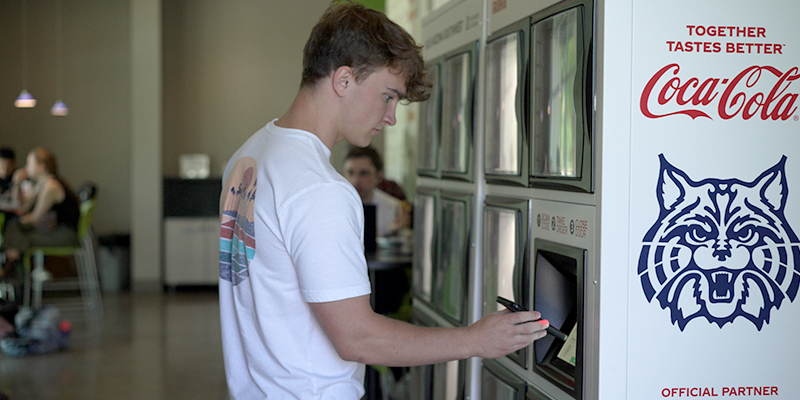 Adding more convenient dining to busy student hubs
As COVID restrictions were eased, Carlson and her team again focused on the original goal of using food lockers in locations with limited dining options.
For instance, the always-busy Bear Down Building is home to a recreation center, student support services, study spaces, and the Red & Blue Market for grab-and-go food options. A few years ago, the dining team was looking to build a full restaurant there to give students more food options. However, when they saw the popularity of the Apex food lockers at nearby Wildcat Food Court, they came up with another creative solution.
Now people working or playing in the Bear Down Building can place a mobile order from any of the restaurants at the Wildcat Food Court, about five minutes away. When their order is ready, a bicycle courier delivers their order to the new food lockers recently installed at Red & Blue Market. It's easy, convenient, and saves students a lot of time.
A student paused as she picked up her order to say, "I think it's super useful, especially for busy students, because it's easy to just put in your order in even when you're in class and then come pick it up and then go right to your next class."
Looking to the next expansion
There are now several banks of Apex Smart Food Lockers strategically located around the University of Arizona campus, including at two locations in Student Union Memorial Center, in Bear Down Building, and in the Global Center food court. Carlson has found the lockers to be a versatile tool to support her team's dining service goals.
"We continue to look at those pockets where it might make sense to add additional lockers," she said. "I'm also curious to look at the potential of putting them in residential halls where it might make more sense for students in late night dayparts, when we might not be open, but we're able to run food through a ghost kitchen to make sure those students have food for their study session or just socializing with their friends."
Carlson said, "As new buildings go up around campus, we get requests to add a dining option or coffee shop, but there's not always an opportunity. By delivering orders from nearby restaurants to the Apex food lockers, we can expand our portfolio and provide convenient options to these patrons."