You've likely heard all the buzz about smart lockers. You're curious and unsure exactly where to start your vetting process. Here are five major considerations and subcomponents to help prepare for the best possible execution.
1. Understand how to use the data
Know what's possible
OrderHQ™ Smart Food Lockers can integrate with existing point-of-sale and other back-of-house management systems to make it easier for foodservice operations to offer quick and convenient online ordering and pickup, creating a seamless experience for employees and guests. Here are some examples of data provided by this system:
Time a specific order was picked upAverage order dwell times
Best times to fire orders and send notifications
Average order create-to-load times
Efficiency and wait times of your Delivery Service Provider (DSP) services
More complete data trail/chain of custody for each order
Single location or system-wide performance
Have a solid baseline
Like any good improvement or innovation, you want to be clear on what problems you are trying to solve. Having historical data will help you identify improvement opportunities and have comparative data to demonstrate return on investment (ROI).
Align new data to key performance indicators (KPIs)
Looking for improvement and growth can only come when you fully align with where you're coming from and where you want to go. Growing for growth's sake can take you on a rogue journey. Be sure to align with the strategic goals of your department, division, and/or overall organization. To benefit the big picture, you want your efforts and this capital investment to pay off and to be well-received by your guests and administration. So, know and understand how you're going to measure success. Sharing this with key stakeholders will go a long way towards buy-in and engagement.
Consistent reporting and change management
Running reports with consistent benchmarks and cadence helps operators gain insights they need to optimize the guest's order pickup experience while improving their back-of-house efficiency and reducing costs. Be sure to identify the roles and responsibilities within your team for running, analyzing, and reporting this data. Then, clearly communicate how you will manage any changes as needed.
2. Technical considerations
Optional integrations
ApexIQ™ software, which powers OrderHQ lockers, easily integrates with leading POS providers, kiosks, restaurant management tools, mobile order and aggregator solutions, payment processors, and other key tech partners. This creates more efficient employee workflows and gives guests a delightful digital experience.
Menu items and packaging
Menu development and to-go packaging go hand-in-hand. Here are a few considerations:
How will you best present pickup orders for that "wow" factor, truly branding the experience? Remember the size of the locker door will dictate the size, stacking, and arrangement of the goods inside.
Sustainability is a hot topic among nearly all food operators and consumers alike. How will you consider this in your pick-up and packaging strategy?
Will you need to go out for a Request for Proposal (RFP) for packaging? If so, consider this in your launch timeline.
Scalability
The system is easily scalable by adding lockers as needed. It's important to consider the potential and anticipated needs of scaling the locker configuration. To mitigate congestion and maximize profitability, adding additional lockers may be necessary to meet demand. This scalability also affects kitchen capacity, so it's important to review efficiencies with back-of-the-house operations, inventory management, and those KPIs for anticipated growth.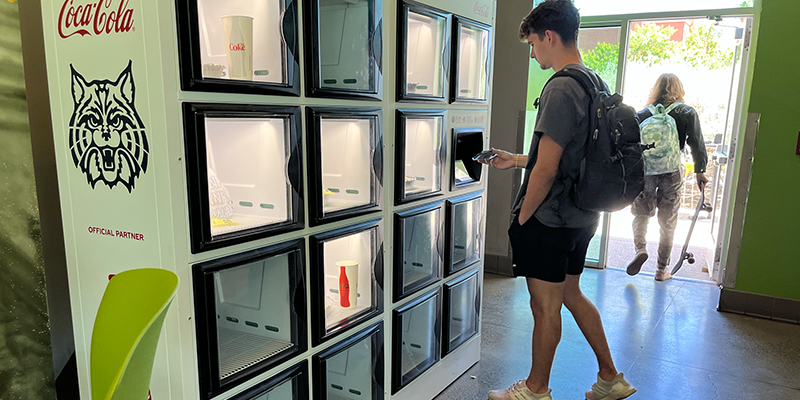 3. Be smart with placement
Foot traffic pattern flow
For existing service locations, you will want to study your current foot traffic patterns, as well as days and times when there are increased populations in the area. Knowing this will help identify the number of lockers and exact location(s) for an optimal guest experience. For newly designed locations, it's optimal to incorporate the lockers into the plan as soon as possible. Your design consultant will be knowledgeable in creating good flow, and the Apex team is happy to be part of the discussion from the very beginning.
Avoiding congestion
Foot traffic studies help in avoiding congestion. So, too, does understanding the current capacity of the back of the house and streamlining the entire process from order to preparation to pick-up. Anticipating an uptick in orders and increased throughput are two of the top requests from Apex customers. Now is the time to examine your back-of-the-house processes for increased efficiencies.
Identity the underserved area
Innovative placements can extend service to under-served areas of campus, using a hub-and-spoke model. University of Arizona created ghost kitchens when they faced labor shortages.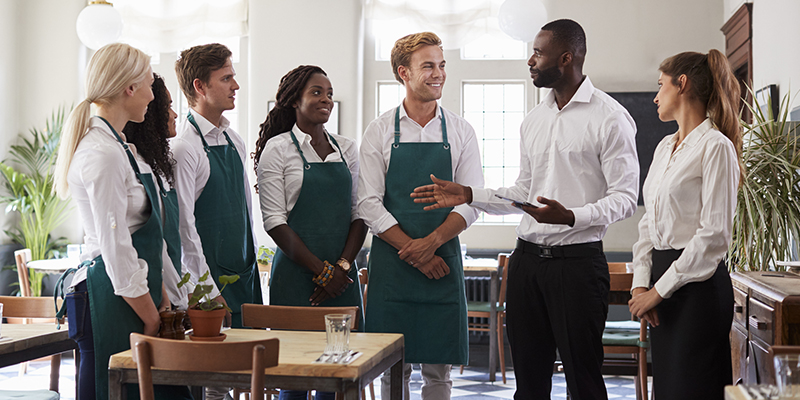 Labor efficiency
Using lockers will change and perhaps even eliminate some roles within your team. Employees don't have to worry about orders being picked up. Employees can now focus almost exclusively on making and loading orders: the order load is frictionless, while the order hand-off is automated. This significantly reduces the amount of labor required to manage off-premises orders.
Additionally, the OrderHQ locker features a customizable freshness timer that can change the interior compartment lighting color if an order has "timed out." The order can be pulled and remade to ensure freshness and food quality.
Involve all professional disciplines
From chefs to administrators, every role plays an integral part in a successful roll-out. Chefs will want to discuss the creation of new menu items and provide feedback on how locker technologies will be part of the discussion (i.e., updating the database, packaging considerations, inventory management, and pick-up limitations).
Service staff will want to understand how their role may change and to offer feedback on how to best execute the front of the house from a guest service perspective. Dieticians will also have some valuable insight and will likely bring some innovative product ideas that perhaps they weren't able to do before. And management will have keen insight into overall operations, staffing needs, inventory levels, and profitability. This is a chance for the entire team to bring their expertise to the table and shine.
Training
As launch day approaches, Apex offers a variety of training and support options to help you ensure that employees, managers, and other associates are familiar with the lockers and the ApexIQ software, as needed. You'll also have access to ongoing support from our trained customer success associates, which is included in your software subscription.
5. Ready for roll-out: marketing
Branding the lockers
Most Apex customers utilize their locker solutions to bolster their marketing and branding efforts. Brand the lockers with your organization's logo, brand colors, photography, tagline, marketing messages, or other enhancements.
Directional signage
Especially with multiple locker set-ups, directional signage can help with the foot traffic and flow. Additionally, if you have a specific ordering app, signage to encourage downloading the app is helpful in engaging passers-by; this can be as simple as having a sign with a QR code to download the app and "Order Today! Download the app!"
Website updates
As with any good marketing strategy, your home page is a great place to add promotions for any new product or program launch. To gain a larger audience, you can also consider an inbound marketing campaign (e.g., provide a promotional discount code with a submittal of name and email address). A new webpage may be necessary to showcase the lockers and tell the story behind the installation.
E-Communications
Utilize your existing database for patrons and staff to promote the new technology. Consider creating an easy-to-follow infographic or video to demonstrate how easy it will be to order and schedule their pick-up. Remember, too, you can also use push notifications through your third-party app.
Public relations
Non-commercial entities have many internal media they can capitalize on, including closed circuit television, newspapers, and newsletters. Special event opportunities abound! Consider a special launch event to demonstrate the lockers and build excitement. Create events around new menu items and other concurrent events (e.g., finals week or special community events). A press release to local media and media invites to any initial launch event can go a long way in telling the story of your innovation while building excitement and engagement with your team.