by Mike Wills, Chief Executive Officer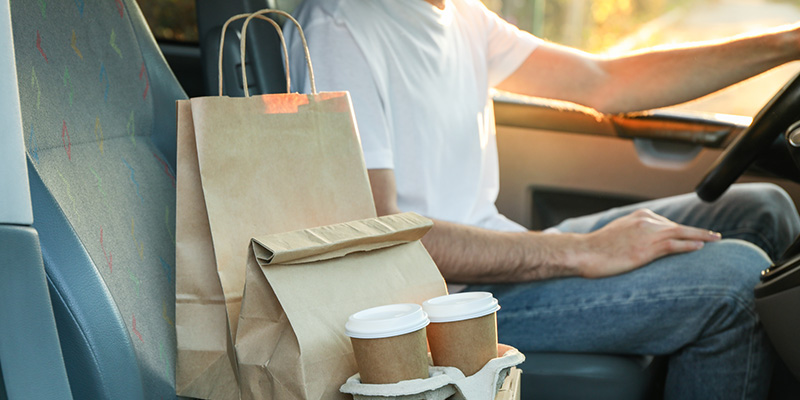 Lyft-Olo partnership highlights why there's room (and need) for both
"The enemy of my enemy is my friend" is an ancient proverb tracing back to early 4th century BC. It basically lays out the logic of two parties with a common goal (and possibly threat), working together for the common good. The competitive dynamics occurring in the broader foodservice market as they relate to the intake, processing and ultimate completion of off-premise orders and customer loyalty programs while protecting operating margins produces news of new alliances each week.
Another innovation in last-mile handoff
Most recently, rideshare operator Lyft announced a partnership with Olo to provide a delivery alternative for foodservice operators who desire to take customer off-premise orders into their system via a native digital menu app while utilizing the Olo Dispatch app. This allows them to locate and connect the most efficient method for order delivery while helping to preserve the brand's operating margins and retention of customer data. The tradeoff to this decision is to pivot from a digital marketplace provided by other DSPs in the rapidly evolving DaaS (Delivery as a Service) market. Foodservice operators who already have a native app in place will be best positioned to execute this strategy quickly and the dynamics that will occur will be fascinating to watch.
As important as the ongoing optimization activity of the "last-mile delivery" process is to the health of the macro food market, the "last-inch" handoff process is equally (or more so) filled with inefficiencies and friction, but escapes heavy scrutiny from foodservice brands to date. Why? The focus has been placed on fighting "other fires" — surviving a pandemic, rising input costs, addressing a nascent digital strategy, rising labor costs and compressed margins associated with DSP/marketplace-based orders. Meanwhile, foodservice operators across the board face a significant rise in digital off-premise orders while addressing this rising tide of orders with many of the same archaic processes.
Common last-inch handoff approaches — and challenges
Assigning team members to provide the last-inch handoff to end customers and DSP drivers is a common practice we see today. Challenges abound with this approach in the face of rapidly rising labor costs and wildly fluctuating labor availability. Piled on top of the challenges with this approach is that these individuals are your customer experience brand ambassadors. This is the last face or experience they have before they leave with their order. Many do it well. Some do not. Maintaining consistency with this approach is a significant challenge, not to mention the additional cost associated with order handoff as back-of-house labor rates approach $17 or higher per hour.
Another common approach we see to optimize this friction-filled last-inch handoff process is to deploy the "takeout order table." This unattended approach certainly meets the low-cost examination measure — or does it? We've written about this misconception previously. As an operator, a closer look suggests that while I am not paying an hourly labor rate to make the last-inch order handoff occur to the right people, I am paying for order rebuilds associated with the growing trend of "mistaken" or "outright stolen" orders from these areas where no customer verification is taking place. I am also paying for this low-cost approach in the negative customer experience of those who paid for their off-premise digital order and show up to find their order missing. People simply looking for a free meal can avail themselves of these bags on a growing regular basis.
Lack of customer data
The other challenge that is common with the assigned team member handoff approach is the complete absence of customer data on the order handoff. When did the handoff occur? How long did it sit? How does that elapsed time measure against our order freshness standards? These are all great questions that go unanswered. A growing theme in the dynamics associated with the foodservice industry is the growing importance associated with customer data and analytics. Both of these approaches leave operators "flying blind" with respect to custodial chain and status of the order once it was flagged as complete. Effectively your customer data stops at order completion in these scenarios.
Apex Order Pickup Solutions has a different approach
Faster, smarter last-inch handoff
We have been working with major brands across multiple markets and industries to optimize the last-inch handoff with things of value to people who want them. Our scalable, enterprise-grade contactless order delivery and pickup solutions allow brand operators to lower their labor costs through assigning team members to back-of-house order intake, build and prep activity along with dynamic customer service activity. We address the issue of inaccurate order handoff or stolen missing orders through customer order pickup authentication, delivering a consistent customer experience each time.
Since July 2020, through the worst of the pandemic impact, Apex Order Pickup Solutions has facilitated nearly three-quarters of a million order pickup transactions through our locker and software platform. You can trust us to help alleviate the operational pain points associated with the unprecedented rise in digital off-premise orders.
The foodservice industry will continue to evolve. New threats and opportunities will emerge with a regular occurrence. As the push and pull over optimizing the last-mile delivery process continues, I urge all foodservice operators to evaluate their last-inch order handoff process with the same level of scrutiny. Apex Order Pickup Solutions stands ready to assist in this endeavor. Like the foodservice brand operators, we want to see you recapture lost margins along with unsatisfied customers and we have the tools and experience to help you do it.
As they discovered in the 4th century BC, "the enemy of my enemy is my friend." In this case, a friend of a friend — is my friend.