by Ashley McNamara, Vice President, Global Marketing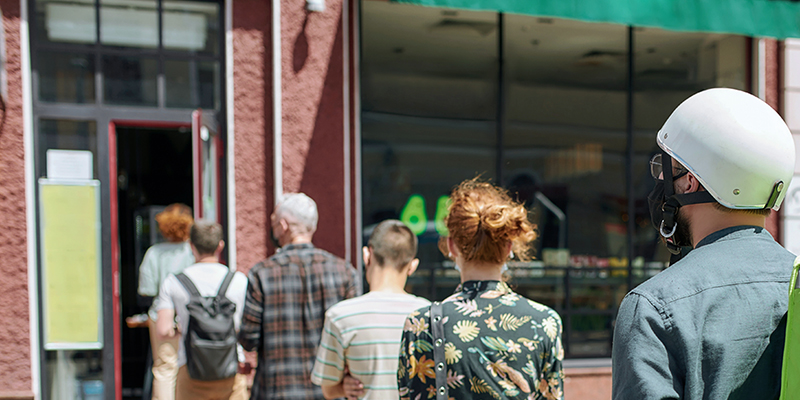 I'm a busy working mom with two on-the-go kids, and my family eats out quite a bit. Thanks to all the latest restaurant technologies and dining options, on any given night we might choose curbside pickup, delivery, mobile-only drive-thru, or dine-in, depending on our schedules and preferences.
I'm also a marketer in the restaurant tech space, so I observe a lot more than the average consumer does. And what I've seen lately is that many brands have invested in smart new tech that speeds order intake and preparation processes, increasing efficiency within the operation. But as orders get made faster, customers are experiencing more bottlenecks in the order handoff process.
In a recent earnings call, Chipotle outlined numerous tech investments it's using with the goal of reaching 2013-2014 levels of order fulfillment. "There's no reason why we can't get back to those high 20s, low 30s on a per 15-minute basis," CEO Brian Niccol said.
While the goal of fulfilling more than two dozen orders every 15 minutes is great for profitability, what's not mentioned is that automating the front end of the order journey often creates a bottleneck for order handoff if it's not automated.
In fact, bottlenecks at order pickup will grow as long as restaurants continue to rely on labor and manual processes to hand off orders.
How bottlenecks interrupt a fast, digital experience
Order pickup bottlenecks often occur when the customer chooses to pick up by car, such as curbside pickup, the drive-thru or even a dedicated mobile order pickup lane.
I've experienced bottlenecks a couple of times lately. Recently my kids have been asking for a national fast casual brand for dinner. I oblige because there's a new location that's on my way home from work that has a mobile order pickup lane, the kind many national brands are now introducing.
In one visit, I arrived at the pickup time and there was no line, so I was able to pull right up to the window. Unfortunately, it took the team inside four minutes to open the window and hand me my order, which was sitting right next to the window the entire time.
On another visit, I arrived at the given pickup time to find that the mobile order pickup lane had a line of cars wrapped around the building. So, I decided to park my car and walk inside, since I thought my order would be ready. I assumed I could just grab it from the team and be on my way. As it turns out, the team was running behind on orders. While I was waiting, another five to seven people came in to pick up their takeout or delivery order from the shelf, and each time, that person spoke with the team member working the register. This took her away from serving the line of people that were in the restaurant placing their orders.
I ended up waiting 15 minutes in the store for my order, which was time I could have spent running an errand. This all could have been avoided if this restaurant had sent more accurate notifications to customers when their orders were ready for pickup.
Meanwhile, the cars for mobile order pickup were still in queue. This bottleneck happens because if the first person's order is the last in the order queue, you have an entire line waiting behind that person, even though their orders are actually ready to go. It's a slow, inefficient process — and frustrating for digital-minded customers.
These experiences definitely made me wary of using a mobile order pickup lane, and research says I'm not alone in this.
Uncertainty and blind spots for takeout
In a recent Bluedot survey, a whopping 50% of all restaurant consumers said they've been frustrated with orders not being ready when they arrive.
If you're like me, picking up your takeout order in person gives you more feeling of control. You're actively doing something to get your order sooner, rather than just sitting in your car, slowly inching forward. But I still don't have the visibility I want into whether my order is actually ready.
Some people have been conditioned to show up early to ensure they get their order when it's freshly prepared. This not only crowds the lobby or mobile pickup lane, but also adds another interaction for team members when they should be greeting guests and focused on preparing orders.
On the other hand, if the order is ready earlier than promised, its freshness and quality drop off as it sits there until the customer arrives. If the order sits too long, or the customer is late for some reason, the restaurant has no visibility to how long that order has been made, and doesn't know when to pull the order and make a fresh one for the customer. I recently noticed a bag on a pickup shelf that had a pickup time three hours earlier! (I don't know if I was more shocked that the restaurant hadn't pulled it from the shelf or grossed out that someone might still eat it.)
What's causing the bottlenecks and poor visibility in all those scenarios? It's that restaurants are using lots of new restaurant tech for easy and efficient ordering, but once the order is complete, the only tech is a shelf (and a lot of stressed-out employees.) The system is out of balance, and customers face bottlenecks as a result.
The bottleneck buster: Smart food lockers
I may be a little biased, but there's a simple way to solve this problem: smart food lockers. They give employees a secure landing spot for all digital orders, so they can place any order there and move on to the next one, knowing each order can only be picked up by the right customer or driver.
These lockers add more visibility into the process, too. Once the order is finished, a notification tells the customer that their order is ready for pickup. (And that means actually ready, not "we hope it's ready.") This means customers know they don't have to interact with your employees, they can just walk in, scan or enter their code, and be on their way in less than 10 seconds. As an operator, you get data for every step in the process, too, so you can verify when the order was loaded into the locker, how long it sat there, when it was picked up, and more.
Again, I'm biased because I'm a marketer of this particular restaurant tech, but as a consumer, smart food lockers are a no-brainer.  When I pick up, I know my order is ready, no one else has handled it, I can skip the line, I can get in, get out, and be on my way home with dinner in hand.
Find out more about using OrderHQ™ Smart Food Lockers to give customers the convenient order pickup experiences they're looking for.