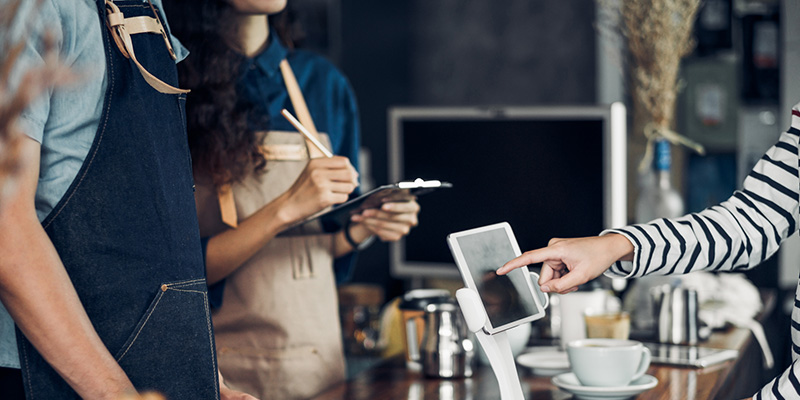 In the restaurant technology industry, Apex integration partner NovaDine is an established leader. They help enterprise restaurants provide seamless mobile and web ordering, delivery as a service, and connect with third-party marketplaces, along with their patented Group Ordering, Order & Pay at the Table, and dozens of other offerings.
This January, industry veteran Christopher Sebes joined NovaDine as CEO. His career has taken him from managing hotels and restaurants around the world, to leadership roles in more than a half-dozen restaurant and retail technology firms, giving him a unique understanding of the issues today's foodservice operators now face.
We spoke with Sebes about the rapid growth of restaurant technology since the pandemic, and what sets NovaDine apart in helping operators deliver the kinds of seamless, digital experiences customers now expect.
What drew you to NovaDine, and what are your goals for the company?
Well, I've known the founder, George Istfan, for more than 10 years, so I was familiar with it.  And over the years when I talked to NovaDine customers and partners, they universally told me that NovaDine had the best technology for enterprise restaurants in the space that they were in. When you hear that multiple times, it makes you think that the company could have a much stronger market position based on its technology than it currently has. And so, I found that opportunity interesting.
NovaDine really has the best, most seamless integrations. From the POS to the ordering solution to the third-party marketplaces, it's entirely seamless and it all happens auto-magically. And that's very different from our competitors.
During the pandemic we saw major brands bolster their tech stacks. Do you think more restaurants will soon do the same?
The restaurant industry in general is technophobic. They don't like to spend on technology, particularly, and it's hard to get them to understand that there is an ROI on technology. I think the pandemic, while it's been horrible, has moved the restaurant industry forward five to 10 years in three to six months. It really has changed the way that restaurants view technology. And it's never going back because customers aren't giving up the convenience that they had during COVID, whether that's contactless pickup from a locker or being able to order and pay from a mobile device instead of standing in line at a restaurant.
Whether it's pulling into a designated curbside spot and shooting a QR code and having your food brought out to you, or relying on third-party delivery … there's just lots of innovation that has happened quickly because restaurants had no choice. I mean, they would have been in much more trouble than they were absent the movement forward that they made in technology during COVID.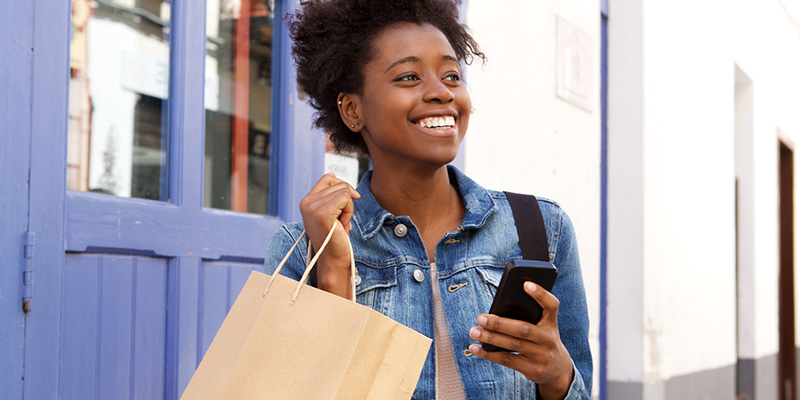 Third-party delivery has been a big disruptor for operators. How does NovaDine help them with that?
Each marketplace has limitations in how they can structure a menu, and they're all different. The menu that's in your restaurant POS may not be supported on the third-party site in the way that it is natively.
NovaDine's competitors ask their customers to create two menus. So, you're forced to create a dumbed down version of the menu, the lowest common denominator that works across all the delivery platforms. What NovaDine does is manipulate the menu programmatically and deliver it to each third-party provider in the form that they need it. When we get an order from a particular third party, we will reconstruct what they provide so that it's in the format the point of sale will understand natively. It's a very differentiated approach that requires a lot less maintenance from the customer.
What are other unique aspects of NovaDine solutions?
Another NovaDine difference is that it's a real-time connection. So, if you change the price on an item, it'll reflect that price in real time on all the third-party marketplaces, with an up-charge, if you choose to do that.
Or if you run out of something and you 86 it in the restaurant, that's immediately reflected on all the third-party sites, and our competitors don't do that. We also make it easy for you to hide menu items, because some items don't travel well, so it's easy to hide those so you don't disappoint customers.
Also, if you change your opening hours — say you decide that this Sunday you're going to close at 6:00 because you don't have enough staff — that's also immediately reflected on the third parties.
With labor issues a concern, what NovaDine products can operators use to help them with that?
NovaDine has a fairly sophisticated load balancing or order throttling system, depending on how you do that. It lets you determine both the number of orders as well as the dollar value that you will accept at any given time. So, maybe your restaurant can handle 10 orders every 30 minutes. Those might come from your own ordering app or a third-party app, but 10 orders that are typical for your restaurant — that average may be $30 an order. However, we take that one step further. Instead, we combine the number of orders with dollar value. So, you can say, "I can take 10 orders in any 30-minute period and/or a maximum of $500." Because if you get one $500 order, maybe you can't handle the other nine orders in 30 minutes. So that's also differentiated.
There are several other advantages we offer. We also support curbside pickup where we can either automatically recognize that the customer is there or allow the customer to check in manually and say, I'm ready for my order. But if they check in and they're not actually there, we might say, "Hey, we noticed you're not at the restaurant yet. Are you sure you want to check in?" We do this because restaurants want their customers to have a great experience, and they don't want that food to be sitting there longer than necessary.
And of course, we also support mobile order pickup through our integration with the Apex food lockers.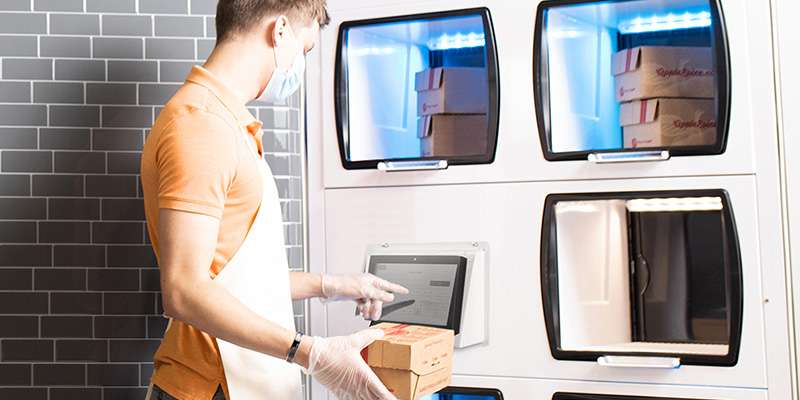 What would you say to brands still using an old-school order pickup shelf or cubbies?
On a shelf, orders get lost. People take the wrong order. Employees may give them the wrong order. If you're using lockers, you know that the right order is going to the right customer, and all the things that make for a better customer experience. You can't get that if you leave a bag sitting at the host stand, hoping that the right person is going to pick it up. You don't know how long it's been sitting there, or has it been held correctly. It's all those things that we know can get messed up after the restaurant sets out that order.
I would also say that you're not paying enough attention to how big a part of your future digital channels are. And so, I would say you should look at the investments that you're making in creating a better customer experience in the light of the mix of your kind of traditional and digital orders, because it's not going back to the way it was pre-COVID. It's just not.
What do you think was the most surprising change that occurred during the pandemic?
If I had to pick just one, it would be the overarching contactless experience. Whether that's going to a restaurant and sitting at a table and being able to order either from the server or from using your phone, or get another round of drinks using a mobile device, or pay the check when you want to go. All those technologies existed in 2020, but nobody was deploying them. Then suddenly everybody had to deploy them because, even when restaurants could let customers back into the dining room, customers wanted more of a hands-off experience.
A growing number of brands have also created a drive-thru experience that leans in toward the people that have ordered ahead of time. So not the traditional drive-thru pickup where we're all in line behind each other, but a pickup of an order placed in advance. Chipotle may have been the first, but others have followed quickly. And so, I think that's a big change for the drive-thru and I think we'll see more of that. It's all moved quickly. When you look at the innovative deployment of technology in the 10 years prior to COVID and in the six months immediately after COVID, it's amazing.
Where do you think restaurant technology is headed in the next 3 to 5 years?
I think there's no question that we're going to see more innovation digitally, more ways of ordering that we don't see today. I think the next user interface is voice, and it's starting to catch on a little. Rally's is rolling out voice ordering in the drive-thru. But the app on your phone you're using to order — why isn't that voice enabled? Why can't I text my order if I want to? Why can't I order from my car? You know, there are innovations in the in-car space, but why doesn't my car show me the menu for the Burger King that I just pulled into?
I think it's going to become ubiquitous that you'll be able to place your order, however you want to place your order. I mean, why can't I say into my phone, "I want a Big Mac, hold the pickles, extra ketchup, and get me an order of fries, too." You know, natural language is making headway in lots of places, but it hasn't made it into restaurant technology. But I believe it's going to catch on.
Where are your plans for growing NovaDine in the next few years?
I think we want to reposition NovaDine in the market as the incredible solution provider that it is. Right now, it's a well-kept secret, which might be cool if you are a club in New York, but not so cool if you're trying to deploy your technology solution. So, my goal is to change the market awareness and focus. You know, I think the company has focused a lot on features and we now want to focus on solutions. People don't buy features, they buy solutions, they want somebody to fix their problems.
We'd like to thank Christopher Sebes for an insightful discussion and for sharing his thoughts on the future of NovaDine's restaurant technology. We invite you to learn more about how the Apex and NovaDine solutions help you to create a seamless, end-to-end digital experience for your customers.
About NovaDine
We solve the restaurant's mobile and web ordering, delivery as a service, and third-party marketplace problems by offering a solution that seamlessly integrates their in-store POS, first-party ordering, catering and third-party sites without ever having to create unique menus to launch those channels. Our customers are also able to offer curbside pickup and QR code ordering at no additional cost. We have processed more than 500 million orders for customers from 10 to 2,500 locations. Learn more at https://novadine.com/.