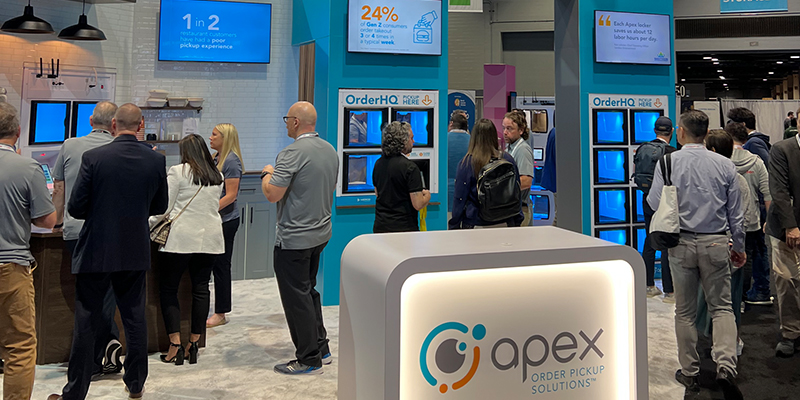 The 2022 National Restaurant Association Show had a special feel to it. Maybe it was simply the pent-up energy and enthusiasm of 51,000+ attendees who were excited  to be back celebrating the foodservice industry. The crowds seemed determined to make up for lost time and experience everything the show had to offer, including more than 1,700 exhibitors, dozens of education sessions, celebrity chefs and fantastic keynote speakers. It's safe to say, this year's Restaurant Show delivered on all it promised.
1. The Apex booth was buzzing!
The Apex booth in the North Hall's Tech Pavilion was non-stop busy for four days. It featured a variety of OrderHQ Smart Food Lockers in various environments that simulate real-world foodservice settings, so visitors could see the benefits of our Flow-Thru, Front-Load, and Countertop models. With our teal blue walls and the glow coming from all the locker compartments, the Apex brand was a blue beacon in that part of the building.
Our partners at Welbilt also featured the OrderHQ lockers at their booth in the South building. Together, the two locations conducted more than 800 demos of fast, efficient order loading and pickup.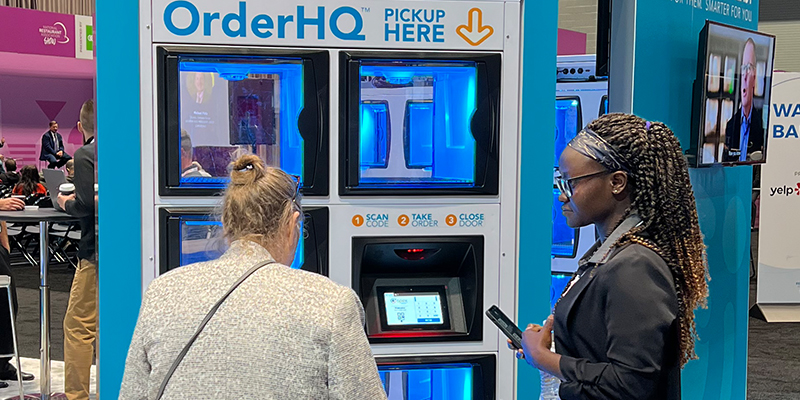 2. Our OrderHQ Exterior prototype was a hit.
We also gathered input on our upcoming OrderHQ Exterior locker, coming in 2023. It's specially engineered and IP 54-rated to be installed in an exterior-facing wall, so operators can provide convenient walk-up service for takeout customers and delivery drivers. They'll save time and won't even have to enter the store — an added convenience that'll encourage return visits.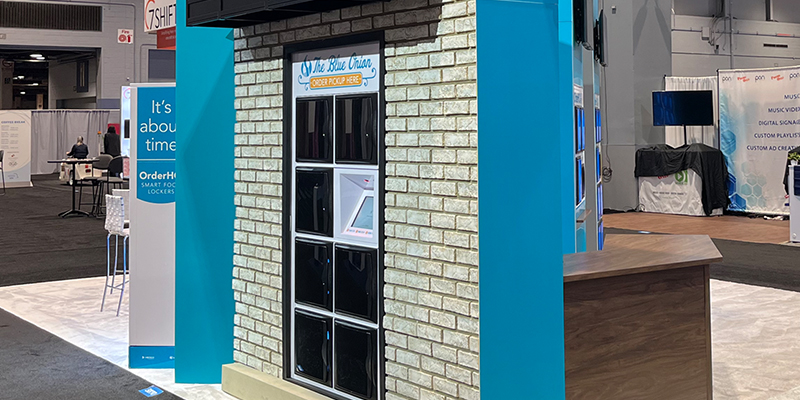 5. Visitors to The Show saw the future of order pickup.
Here are just a few of the comments we heard from visitors to the Apex and Welbilt booths, after they saw our OrderHQ Smart Food Lockers.
"This is the future – how food should be delivered. No guessing if the order is ready, no picking up the wrong order, no remaking 'missing' orders. It's a matter of when, not if, this becomes the standard."
"We have no idea when COVID or something else may spike again, so these lockers will be a necessary solution moving forward."
"I think these lockers could help us with our digital sales growth both during the day and at night to keep things organized and pivot cars out of the drive-thru for greater efficiency."
"This is really straight forward to use. It would solve real-life problems."
Couldn't be there? Watch our recap.
Our outstanding film crew captured the mood of the 2022 Restaurant Show and created this short recap video that offers a quick overview of the experience. Our thanks to everyone who came by and we look forward to seeing you at future foodservice shows this year.