By Mike Wills, Chief Executive Officer, Apex Supply Chain Technologies
A new business specializing in smart lockers for foodservice and retail
You could say I grew up around the restaurant and service industry. My parents were serial entrepreneurs and many of their establishments had a foodservice aspect to them. Later in life, as my father's business interests turned to long-distance trucking, I spent many summers on America's interstates eating in some of the finest diners that never failed to make me feel at home. Regardless of the service venue or the menu, I feel a great affinity for these foodservice establishments and the good feelings they evoke.
Any words or phrases to frame our experience for this past year fall completely short of reality. The word "unprecedented" or any of the other overly used terms we have applied to this past year don't encapsulate how it has affected each of us, in some common as well as very personal ways. It has impacted our businesses, the methods and processes we use to serve our customers, and the ways in which we communicate and manage our teams that serve them.
With disruption comes innovation
One of the many bright spots from our pandemic experience was witnessing the innovative spirit on display by businesses around the world as they wrestled with the reality and changes associated with social distancing. Foodservice operators quickly modified their back of house operations to adapt to a new influx of online takeout orders while utilizing nearly vacant dining rooms for staging areas. Retailers rushed to make curbside delivery a mainstay in bringing online orders to their customers. These new practices allowed many foodservice and retail operators to survive during this long period of disruption.
While these innovative practices provided a path to survival, many will not be scalable when (not if) normal operational volumes return. At some point, through herd immunity and broad vaccination availability, customers' desire for the full-service experience that brands offer will return.
However, I also believe that customers who have leaned heavily into online ordering over the past year will continue to do so, now that it's become a convenient habit of daily life. This will place a new challenge on many brands as they again pivot to maintain the positive experience customers want while embracing the growing demand for fast, convenient order pickup.
This restored on-site volume should be viewed as a "good problem" to embrace. However, if brands can't pivot quickly and put new processes and investments in place to protect the entire experience, they will quickly stop providing the experience customers desire, and return for. Instead, they will become a casualty.
Moving forward, the stakes are just as high, and the sense of urgency is just as important as when we entered this pandemic. Transitions are periods of shakeout. Those brands who don't continue to adapt and invest into the anticipated changes will be chasing the competition. Just like in March 2020, we are entering another period of transition.
Apex brings fresh thinking for order pickup
With this new, identified transition in front of us, we at Apex have also taken inventory of our own strategy and alignment. Because of this significant defined opportunity to provide contactless automated order pickup solutions, Apex Supply Chain Technologies has re-aligned its resources and team structures to provide the maximum organizational focus.
Today, I'm proud to introduce a newly formed business, Apex Order Pickup Solutions.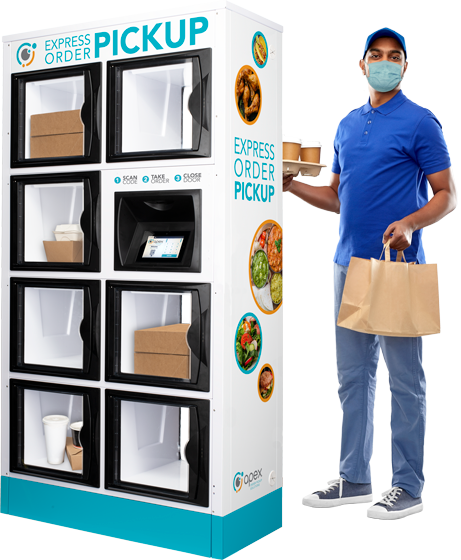 This new company is focused on bringing tested contactless order delivery and pickup solutions to these industries under transition. We've built many customer relationships across these industries and see significant opportunity to help transform outdated processes and practices with efficient, profitable automation. We created Apex Order Pickup Solutions to ensure a nimble, focused response to our customers' needs in their evolving marketplaces.
A recently announced global manufacturing and distribution partnership with Welbilt provides broader global distribution and enhanced support for foodservice brands of all sizes, around the world. Another recent exclusive licensing agreement with Brightloom (formerly eatsa) will help us provide a broader spectrum of order delivery and pickup formats in the future. We're very excited about these partnerships and others that may become evident in the future as we press forward in our commitment to be the market leader in the order pickup space.
We enter 2021 with a newly structured and capitalized business to bring the best of Apex innovation and the most highly secure, reliable, transaction load bearing software in the industry to our current and future foodservice and retail customers. Our legacy company, Apex Supply Chain Technologies, will now sharpen its focus and commitment to bringing contactless solutions to distribution center/logistics/transportation industries, corporate ITSM organizations, and wholesale distribution markets.
These times demand sustainable, automated order pickup
At the start of the pandemic, many retail and foodservice operators implemented curbside delivery as a stopgap means to retain customer activity while maintaining safety for customers and team members. This year, as dine-in volume grows and in-store shopping increases, labor utilizations and efficiencies will again increase as a margin erosion threat to ongoing survival. Service labor will once again need to be diverted to tending on-site guests – leaving a void in serving customers who choose takeout, BOPIS, click & collect, and other alternative services.
In restaurants, front of house traffic congestion will also rise as a major concern, if it hasn't already. As guests return to dine-in, or linger for a cocktail at the bar, the last thing they want to see is a crowd packed into the lobby. This traffic includes guests who are waiting for their table, guests who are waiting for their off-premise order, and a growing number of delivery service providers there to pick up an order. Without adequate "traffic control" investments, brands place their future in jeopardy due to this choking effect of congestion in some of the most critical places in their operation.
If a patron judges table availability or wait times based on what they see in the crowded lobby, they may move on. If the guest who walks in sees a large group of people around the bar area, they may elect to bypass the cocktail and go straight to the table.
The bottom line is that an investment in automated, contactless order pickup yields dramatic improvements in both the on- and off-site customer experience. Crowding in restaurant lobby areas is mitigated by diverting off-premises customers to designated order pickup areas. Drive-thru lanes are shortened as many customers choose to pick up at your smart lockers, in seconds.
In retail settings, self-serve pickup lockers can replace or greatly reduce the need for inefficient curbside pickup, and associate labor may be redirected to other roles. In addition, smart lockers placed in a vestibule or sheltered area can provide 24/7 pickup without added labor. Labor efficiency and utilization improves, since you no longer need dedicated team members to hand off the order to the customer. Yet you can continue to provide a consistent, high level of service to both on-site and pickup customers.
Apex advanced order pickup technology
The best part is that Apex contactless pickup solutions are predictable. Our Apex Cloud software provides 99.5% uptime – so these solutions always show up for work. They never call in sick, never need a day off, and never have a bad attitude. They are designed to provide a consistently high level of service and efficiency for your customers and employees. And they provide secure, critical data visibility of the "last inch" of order handoff, enabling operators to fine-tune their processes and improve both efficiency and customer experience.
Apex has been perfecting point-of-use automation across many industries for more than a decade, fine-tuning all aspects of our hardware and software to make them incredibly efficient and reliable.
Our proven automation eliminates wasted steps, wasted motion, wasted time, and wasted costs –which has never been more important for retail and foodservice operators. Apex will continue to stay true to our innovative spirit while we examine further ways to help you improve customer service, increase labor efficiencies and maximize bottom-line results.
The future is bright – and more efficient
As I mentioned earlier, 2021 will usher in yet another transition of significance for both foodservice and retail operators. When you are ready to make the pivot and move from survival mode to thrive mode, we are ready to be your partner in that journey. Contact Apex Order Pickup Solutions today and take the first important step.