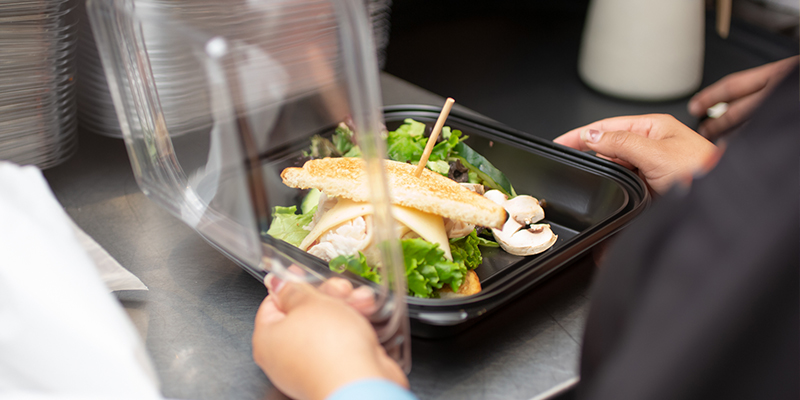 Why a hot holding brand is all-in on unheated food lockers
Back in December 2020, it probably raised a few industry eyebrows when Apex announced that our food lockers would be manufactured and distributed by Welbilt's Merco brand — but they would not be heated lockers. Confusing, right? After all, Apex is known for ambient food locker solutions, while Merco is an expert in using heated equipment to keep food fresh and delicious.
To get to the bottom of this question, we sat down with Merco's Vice President & Managing Director, Nick Patterson, who's been with Welbilt more than 10 years. Since 2016, Patterson has redesigned the entire Merco portfolio and launched several acclaimed technologies, including two that recently won Kitchen Innovation awards. He took time out of his busy day to talk about why the Merco-Apex partnership means great things for restaurant and foodservice operators, and why heated lockers are not the best option in most cases.
Tell us about Welbilt and the Merco brand.
Welbilt is a global leader in the commercial foodservice space. We make equipment for almost every type of kitchen in the world. We have top brands in nearly all major categories, including ice, beverage, refrigeration, ovens, grills, fryers, and hot holding. I manage the Merco brand, which is the hot holding brand for Welbilt. Merco has some of the best technology in the world to maintain hot and juicy food until it can be served.
For those who aren't familiar with Apex, why do you think the Merco-Apex partnership is important and brings value to your customers?
The Merco-Apex partnership is really quite brilliant for our customers. You're getting a combination of the best knowledge and expertise of these two companies working together to make the best product on the market.
In Merco, you get a world-class Welbilt brand with knowledge and experience in restaurants across the world, with a global sales and support team to help you succeed, and a global service network for all types of support. In Apex, you get a brilliant technology company with deep knowledge in order pickup equipment and processes, and they know how to use the valuable data streaming out of each locker to help optimize the solution for each customer.
What are some of the complexities and challenges of hot food holding?
Hot Holding is all about maintaining the quality of the food until it can be served. We all go to restaurants for that one unique item you love, and you want that great taste to be consistent every time. We have to hold crispy fried products and maintain that crunch, but we also have to keep that thick burger hot and juicy… so we use different technologies to maintain those unique characteristics. Our goal is to help restaurants serve their best food any time of day. That's why we say 'Merco Serves Quality on Demand.'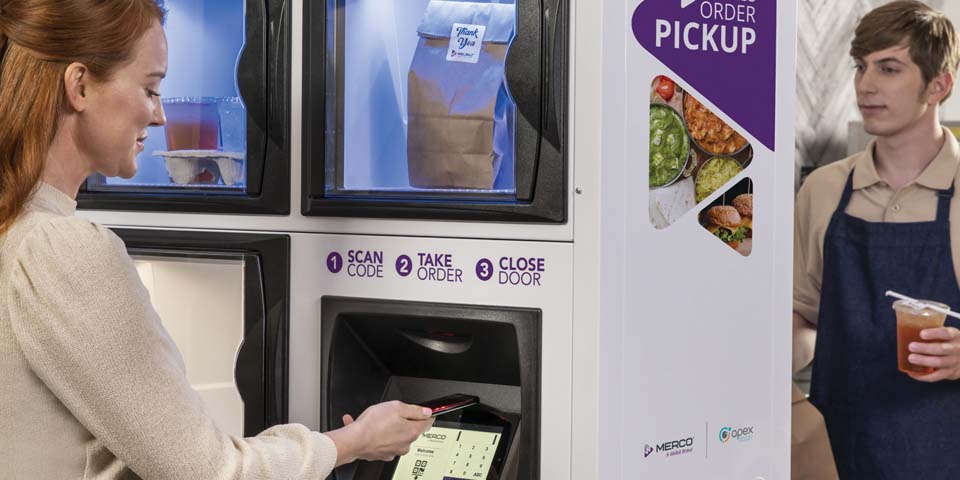 With Merco's expertise in hot holding, why did the brand make that exception and partner with Apex on ambient food lockers?
That's a great question. When I started working with Apex, I was convinced that we needed to make a heated locker. But after digging into the details of lockers, I realized that heated lockers aren't going to save the day. Heat just adds complexity for everyone. Trying to make sure drinks and salads are separated from burgers and chicken requires double the number of lockers needed, it also requires someone to separate hot and cold bags, and leads to customers forgetting parts of their orders.
Partnering with Apex showed me that ambient lockers take all that complexity away. The key is to optimize the pickup process so that the food is only in the locker for a few minutes. Apex uses a suite of integrations, and gathers data, to help customers reduce that time. In the end, reducing that time improves food quality and freshness. As a result, you have happier customers who are likely to buy again.
What are some reasons operators might want to avoid heated lockers?
The biggest misconception with heated lockers is that they help maintain food quality. I've been around hot holding equipment for a long time, and once you package up food and place it in a bag, the time is ticking on quality… hot or not. The focus should be on getting the food through the locker and into the hands of the consumer as quickly and easily as possible.
Of course, heated and cooled lockers usually cost more up front, too. They certainly cost more in energy to run over time, and have extra parts which might break. You also would probably need about double the number of lockers since you'd be using a hot locker and a cold locker for almost every order…  but they really do just complicate things for everyone. For the kitchen team, splitting an order between hot and cold items is never going to be as easy as putting everything in one ambient compartment. And it makes the processes easier for the customers as well — one door opens, and you take your whole order. You never have to worry about forgetting your drink.
Why are smart food lockers like the OrderHQ locker a good fit for many Merco customers?
Smart lockers, like the OrderHQ food lockers, are great for anyone doing pickup and delivery, and today that means almost everyone. The lockers help with kitchen efficiency, ensure optimal food freshness and quality by reducing pickup times, and they offer a secure way to get your food. And again those things will ultimately mean happier customers who are likely to order from these stores again.
On top of that, the data coming from the lockers will be an enormous help to the stores. The lockers give information that stores simply don't have today, including how long an order takes to produce, how long it waits in the locker, and who picked up the order.
What are the major pain points that the Merco and Apex partnership solves for foodservice operators?
The OrderHQ food locker solution allows the operator to take control of that last-inch handoff. Whether that is to the customer or a delivery person, we can really manage what that interaction feels like to a customer and continue to improve it. Another way our OrderHQ lockers can help is through integration to restaurant systems. Our solution offers ways to work with restaurant apps, connect to POS systems, work with kitchen management systems, and even text customers. It's all about a seamless experience for the customers and the kitchens.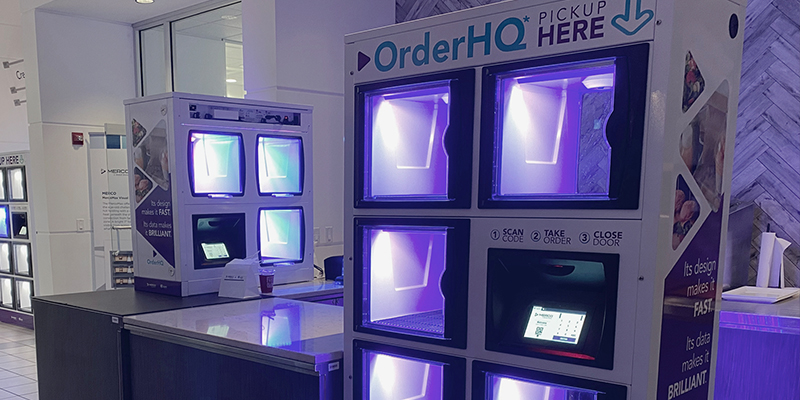 What makes the Apex/Merco food lockers different from others on the market?
OrderHQ lockers have some very important differences from others out there today. There are a lot of basic locker systems in the market, but most weren't designed for foodservice. The OrderHQ solutions were designed from the ground up with foodservice in mind — and that started with the brains behind it. The system was designed to integrate into a restaurant's technology stack to make things simple and intuitive for both restaurants and customers.
Let's talk about that technology a bit. Why do operators need "smart" lockers vs standard food lockers?
Well, those really should be two different categories. Standard food lockers were just the easiest way to step into this market. Now that we know off-premises is continuing to grow, smart lockers are going to be the path forward. Smart lockers offer incredible gains inside the kitchen where things will easily flow from an app or POS order, through the make process, into the locker, and ultimately into a customer's hands. Smart lockers take multiple steps and potential mistakes out of that path and ensure things always run smoothly.
Beyond the efficiency, I believe that the data from these lockers will ultimately be the most valuable piece. Being able to understand order prep time, food dwell time in the locker, and who is picking the food up will give operators all the information they need to optimize their off-premises channel.
What would you say to someone who doesn't see the need for order pickup data?
I would say that they probably have their hands full just staying open and serving food today. It's a tough environment out there right now.
But it's part of our job to inform the industry of the value this data brings. As the landscape for third-party delivery continues to change, the data coming from the lockers will be critical to understanding pickup and delivery business. Much like every second of drive-thru time is scrutinized today, as more and more business shifts to off-premises, the data provided by the locker will give the operators that vitale information to understand and improve all aspects of their delivery and pickup channels.
What's next for Merco? What are some of the goals for upcoming product development and partnerships?
Of course, I want to see our partnership with Apex continue to grow. I think we've got a great product here that almost all of our customers should be looking at. Beyond that, you'll just have to wait and see, but there will be plenty to talk about.